If you are looking for the perfect road trip playlist or just want to expand your music collection for car journeys, you've come to the right place. By using Spotify data, we at Dayinsure – the temporary car insurance experts – have been able to generate a playlist of the world's favourite driving songs, made up of the essential tracks people are listening to most whilst behind the wheel.
This has resulted in the Best Driving Playlist below, which includes the 100 most popular songs found on an array of Spotify driving playlists. If you are looking for the soundtrack to a certain type of drive, whether the ultimate road trip or school run, you can also listen to specific drive-type playlists further down, including everything from recent hits to classics from decades past.
The best driving playlist
Thanks to the data collected in our study, we are confident we have created the best driving playlist on Spotify.
Compiled of the world's most popular driving songs from 2021 chart toppers to classic rock anthems and power ballads, Dayinsure's best car music playlist is perfect for any type of trip. This genre-defying collection of music will mean that whoever is in the car and whatever their bop of choice, there will be something for them. Spanning 6 hours and 25 minutes and consisting of 100 songs, from 'Here Comes The Sun' to 'Sweater Weather' and from 'Brown Eyed Girl' to 'Piano Man', you are sure to enjoy every second.
Please enjoy and share it with your friends and family!
Listen to The Best Driving Playlist on Spotify
Learn about our methodology and how we used a playlist mining tool to analyse over 6,000 playlists and over 900,000 songs in our study of Spotify music data.
What is the most popular song to listen to when driving?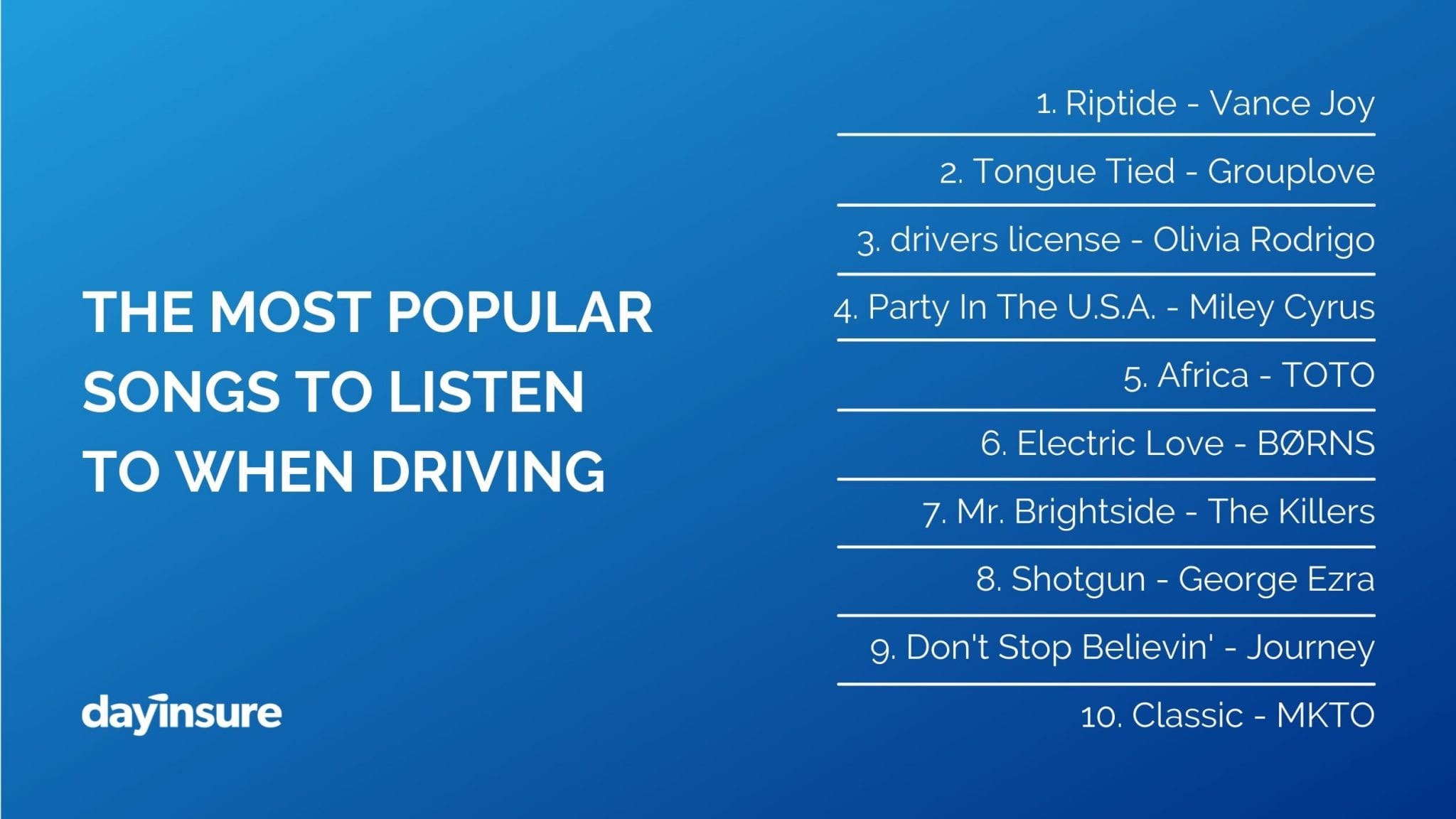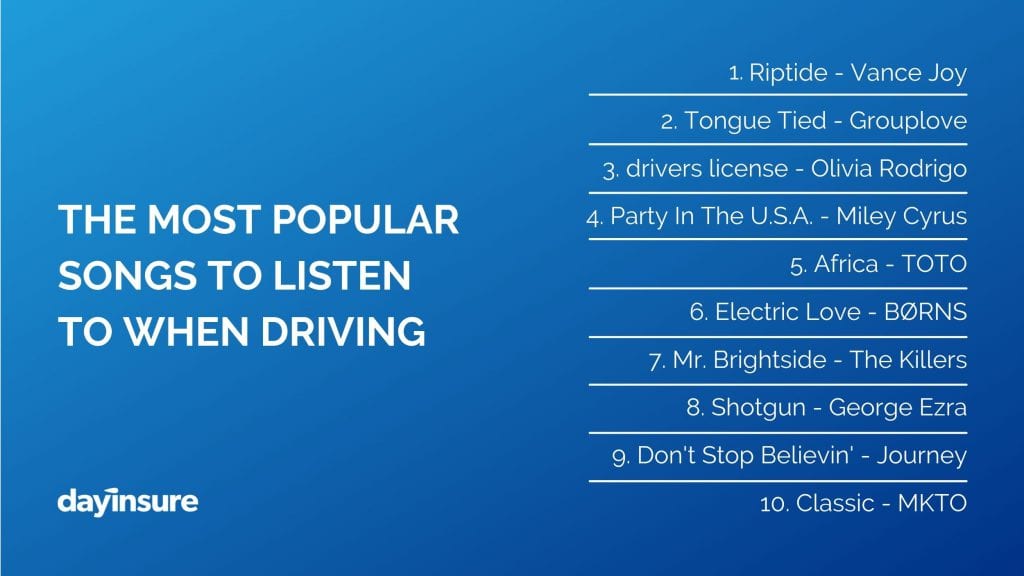 You may think that the ultimate driving song would be a decades-old, Grammy-award winning, chart-topping super hit but that's not the case. We can reveal that the most popular song to listen to when driving is:
Riptide by Vance Joy
This 2013 pop hit inspired by the music of the 70s has collected over six million sales worldwide and was one of the biggest songs of the 2010s – it came 65th in the UK's Decade End Charts. This song is popular across a range of drive-types, appearing on our road trip, evening commute, car singalong, late-night drive, and Sunday drive playlists.
Riptide features in 324 of the 6,084 playlists studied and is most likely to feature on a road trip playlist, where it was the 12th most popular track. However, Riptide is the only entry for Vance Joy across all playlists, a bit of a one-hit-wonder, perhaps?
Who is the most popular artist to listen to when driving?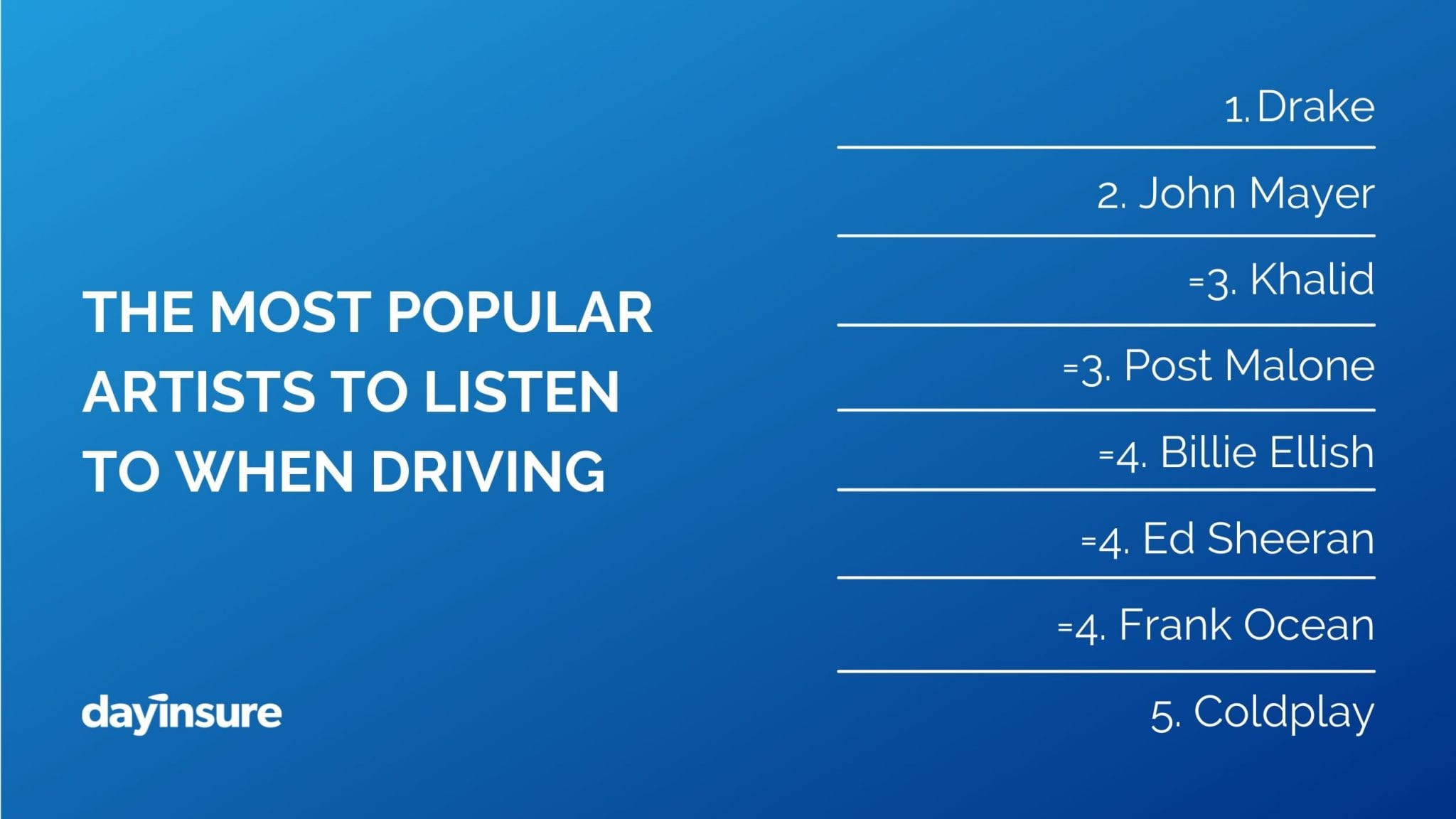 When it comes to who we listen to when we are driving, there is one artist that stands out above the rest. We can reveal that the most popular artist to listen to when driving is:
Drake
A recording-breaking hip hop artist from Toronto, Canada, Drake is a fitting artist to be crowned the most popular to listen to when driving. As the Billboard Artist of the Decade for the 2010s, the first artist to pass 50 billion combined streams on Spotify and holder of 27 UK number ones spending 159 weeks in the charts, he is a worthy winner.
Of the 6,084 playlists we examined, Drake appeared on 909 of them either with his own track or as a featuring artist. His most popular song for driving is 'Chicago Freestyle' which can be found on 189 of the playlists we analysed for this study. When it comes to the playlist of 100 most popular driving-themed songs, three of his tracks made the cut and he is also a featured artist on one other song.
Drive-Specific playlists:
Use the jump links below to quickly navigate to each drive-type playlist.
The best road trip playlist
When it comes to road trip playlists, our study found that some of the greatest songs and hits of the past certainly seem to make for great driving tunes, with the classic rock hit 'Sweet Home Alabama' by Lynyrd Skynyrd proving the most popular among Spotify road trippers. The Eagles are clearly a band that people love to listen to during a long drive on the open road, as they have multiple songs that feature prominently in these types of playlists. There are a lot of feel-good songs featured in this list of road trip music, tracks that emit positive vibes and get people in the mood to explore, which certainly makes sense when embarking on a road trip adventure with friends and family.
The top 10 most popular road trip songs:
Sweet Home Alabama – Lynyrd Skynyrd
Hotel California (2013 Remaster) – Eagles
Highway to Hell – AC/DC
Take It Easy (2013 Remaster) – Eagles
Don't Stop Believin' – Journey
Africa – TOTO
Pumped Up Kicks – Foster The People
Tongue Tied – Grouplove
I'm Gonna Be (500 Miles) – The Proclaimers
Dreams (2004 Remaster) – Fleetwood Mac
Listen to The Best Road Trip Playlist on Spotify
The best morning commute playlist
The next playlist to come from our study is the morning commute, a task that is hardly something to look forward to but with a few great songs to drive to, that trip to work can certainly become more enjoyable. As you can see from the track list, it's a positive vibe that people are trying to manifest at the start of the day and many of the track titles literally imply that with such songs as 'Here Comes The Sun', 'Lovely Day' and 'Good Days'. However, work hasn't been completely forgotten as '9 to 5' by Dolly Parton makes an appearance!
The top 10 most popular morning commute songs:
Here Comes The Sun (2009 Remaster) – The Beatles
Blue Sky – Electric Light Orchestra
Magic In The Hamptons (feat. Lil Yachty) – Social House
Sunday Morning – Maroon 5
Loving Is Easy – Rex Orange County
Put Your Records On – Corinne Bailey Rae
New Light – John Mayer
Dreams (2004 Remaster) – Fleetwood Mac
Blinding Lights – The Weeknd
Golden – Harry Styles
Listen to The Best Morning Commute Playlist on Spotify
The best evening commute playlist
In contrast to the morning commute playlist, our study of Spotify data has produced an evening commute playlist that features a much more sombre mood, with some more literal tracks making the cut such as Drake's 'Hold On, We're Going Home' and 'Heading Home' by Griffin. With toned-down dance tracks and melodic songs aplenty, this playlist of songs to listen to while travelling home can help you wind down after a hard day in the office and arrive home feeling relaxed and calm.
The top 10 most popular songs for an evening commute:
Nothing Lift (feat. Will Heard) – Kygo
Drive – Glades
Orbit – SŸDE
Hold On, We're Going Home – Drake
Last Cigarette – kennedi
Caves (Samuraii Remix) – Haux
The Ocean (feat. Shy Martin) – Mike Perry
Whole Hear – Gryffin
Temporary Love – The Brinks
History – Olivia Holt
Listen to The Best Evening Commute Playlist on Spotify
The best school run playlist
Our study has also revealed why the above tracks are the perfect songs for the school run. Getting the kids up and out of the house in the morning is hard enough, but, with the right playlist, you may just be able to get them to wipe the sleep from their eyes before reaching the school gates. If it's high-energy movie tracks your little one's love then this track list is full of them, with 19 tracks from some of the biggest blockbusters, you can listen to your on-screen favourites from 'The Greatest Showman', 'Moana', 'Trolls' and more. It's easy to see why these tracks were so popular among Spotify users. From fun to sing Disney classics to modern pop anthems from the likes of Katy Perry and George Ezra, this playlist is sure to get the party started on the school run.
The top 10 most popular songs for the school run:
Shotgun – George Ezra
Blinding Lights – The Weeknd
Dance Monkey – Tones And I
Head & Heart (feat. MNEK) – Joel Corry
Believer – Imagine Dragons
Savage Love (Laxed – Siren Beat) – Jawsh 685
You're Welcome – Dwayne Johnson
This Is Me – Keala Settle
Thunder – Imagine Dragons
Watermelon Sugar – Harry Styles
Listen to The Best School Run Playlist on Spotify
The best car sing-along playlist
When cruising down the road, many of us love to sing along to our favourite tunes, belting out a classic track like no one can hear and shamelessly committing to those high notes. This songs to sing in the car playlist features the best sing-along songs you can find and will have your car sounding like a karaoke bar with instantly recognisable songs such as Whitney Houston's dance floor-filler 'I Wanna Dance with Somebody', 'Sweet Caroline' by Neil Diamond and one of the most epic karaoke songs ever, 'Livin' On A Prayer'. These are the tracks you've heard a thousand times but never get tired of and have to sing at the top of your lungs. So, if you are searching for a few more classic sing-along song choices, this is the perfect playlist for you.
The top 10 most popular songs for a car sing-along:
Don't Stop Believin' – Journey
Party In The USA – Miley Cyrus
Stacy's Mom – Fountains Of Wayne
What Makes You Beautiful – One Direction
Hey, Soul Sister – Train
I Want It That Way – Backstreet Boys
Beautiful Girls – Sean Kingston
Classic – MKTO
A Thousand Miles – Vanessa Carlton
Fireflies – Owl City
Listen to The Best Car Sing-Along Playlist on Spotify
The best late-night drive playlist
With streetlights flashing past you in rhythm, quiet roads and darkness around, late-night drives can be therapy for some people. This playlist of late night drive songs, more than any other, shows the sign of a generation as our study of Spotify data has found that only two songs from the top 100 best late-night drive songs were released before 2010 – 'Yellow' by Coldplay and '505' by the Arctic Monkeys. For young drivers, or those young at heart, this playlist is the perfect soundtrack to late-night driving and will get you deep in your feels.
The top 10 most popular songs for a late-night drive:
Chicago Freestyle (feat. Giveon) – Drake
SLOW DANCING IN THE DARK – Joji
Location – Khalid
Don't – Bryson Tiller
Daddy Issues – The Neighbourhood
I Fall Apart – Post Malone
Chanel – Frank Ocean
Exchange – Bryson Tiller
Get You (feat. Kali Uchis) – Daniel Caesar
Sweater Weather – The Neighbourhood
Listen to The Best Late Night Drive Playlist on Spotify
The best Sunday drive playlist
A Sunday drive is something deep-rooted in British culture. A way to enjoy the sunshine (when it comes) and get into the beautiful countryside with no real agenda, only to drive. With a range of old-school love songs, rock classics with timeless guitar riffs and pop songs to sing on car journeys, the tracklist produced by our study offers a great variety of music. If you are looking for something to listen to whilst you coast in a classic car with the top down, this playlist is just the ticket.
The top 10 most popular songs for a Sunday drive:
Dreams (2004 Remaster) – Fleetwood Mac
Drops of Jupiter (Tell Me) – Train
Sunday Best – Surfaces
Sunday Morning – Maroon 5
Here Comes The Sun (2009 Remaster) – The Beatles
Put Your Records On – Corinne Bailey Rae
Brandy (You're Fine Girl) – Looking Glass
Take It Easy (2013 Remaster) – Eagles
Loving Is Easy – Rex Orange County
The I Know The Better – Tame Impala
Listen to The Best Sunday Drive Playlist on Spotify
Methodology
Using Playlist Miner, we examined 6,084 playlists and 920,904 songs to discover the most popular driving songs and artists used in driving-themed Spotify playlists.
For the drive-type playlists (such as 'road trip' and 'morning commute'), we located the top playlists for each (for example, playlists with names containing the phrase 'road trip'), and then established the 100 songs most commonly found across those playlists. Those songs were then curated into the final seven drive-type playlists.
For the 'Best Driving Playlist', we then combined the seven drive-type playlists and established which tracks were most common across them, curating the 100 most popular songs into the final playlist.
Please Note: Some songs included within these playlists may include explicit lyrics/content. You are able to disable these songs from playing by accessing your Spotify account settings.
The best driving music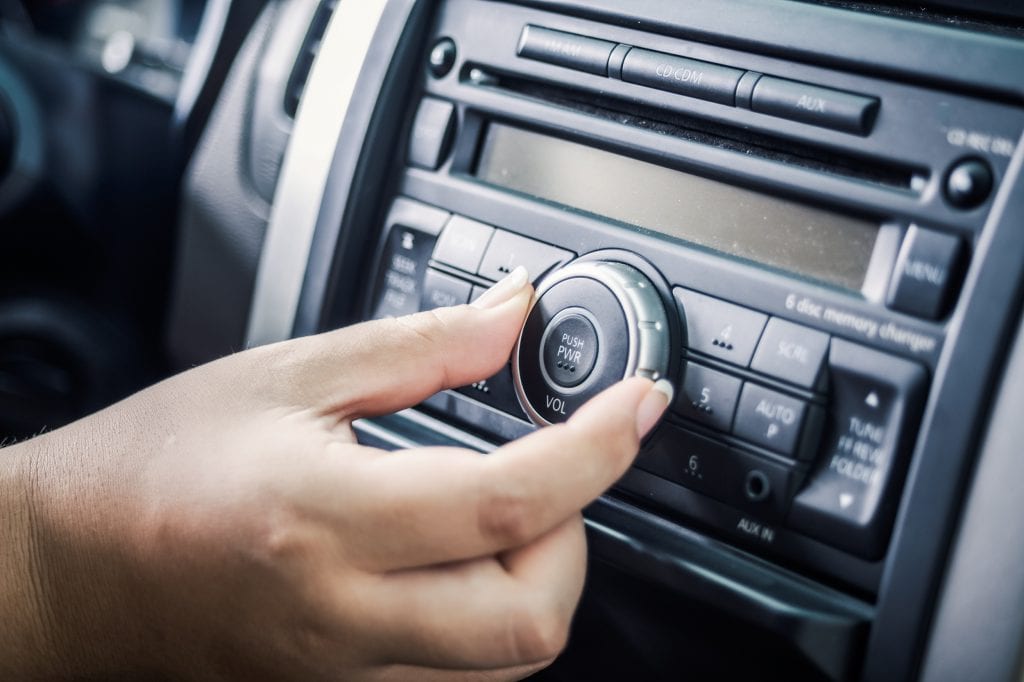 Beyond looking at the raw data, we also reached out to various bloggers for their thoughts on what makes a good driving song and what they like to listen to.
Claire, from the parenting lifestyle blog Life, Love and Dirty Dishes, told us that for her, Adele is her go-to artist to sing along to: "As a parent, I rarely get my choice of music in the car. But if I'm in the car by myself I always listen to my favourite playlist, I have quite a mixture of songs on there. I love to belt out Adele (badly). I think a good sing-along in the car is good for the soul. It has to be loud, and it's even better if there's traffic, because I get to enjoy my carpool karaoke for longer. Even if I do get weird looks from other drivers. I don't care, I'm living my best life!"
We can tell from the morning commute and late-night drive playlists that depending on the time of day, people tend to be in the mood for different types of music. This is something that Claire from Wotawoman Diary shared with us about her own car music tastes: "The time of day and my mood dictates what I listen to in my car. My radio is my main source of music unless I have a long journey planned and then I shuffle my playlists. Kisstory would be the station I listen to during the day but mellow magic is my evening tunes of choice."
Rebecca, from the parenting and lifestyle blog Futures, spoke with us about her favourite music to listen to in the car: "I love to listen to rock music in the car – 90s and 00s rock in particular. I especially like to listen to it when going on a road trip as it is just so energetic and gets the blood pumping, ready for the adventures ahead. I have numerous rock playlists saved on my Spotify including the emo and pop-punk tunes of my youth – even the kids have started to learn some of the songs!"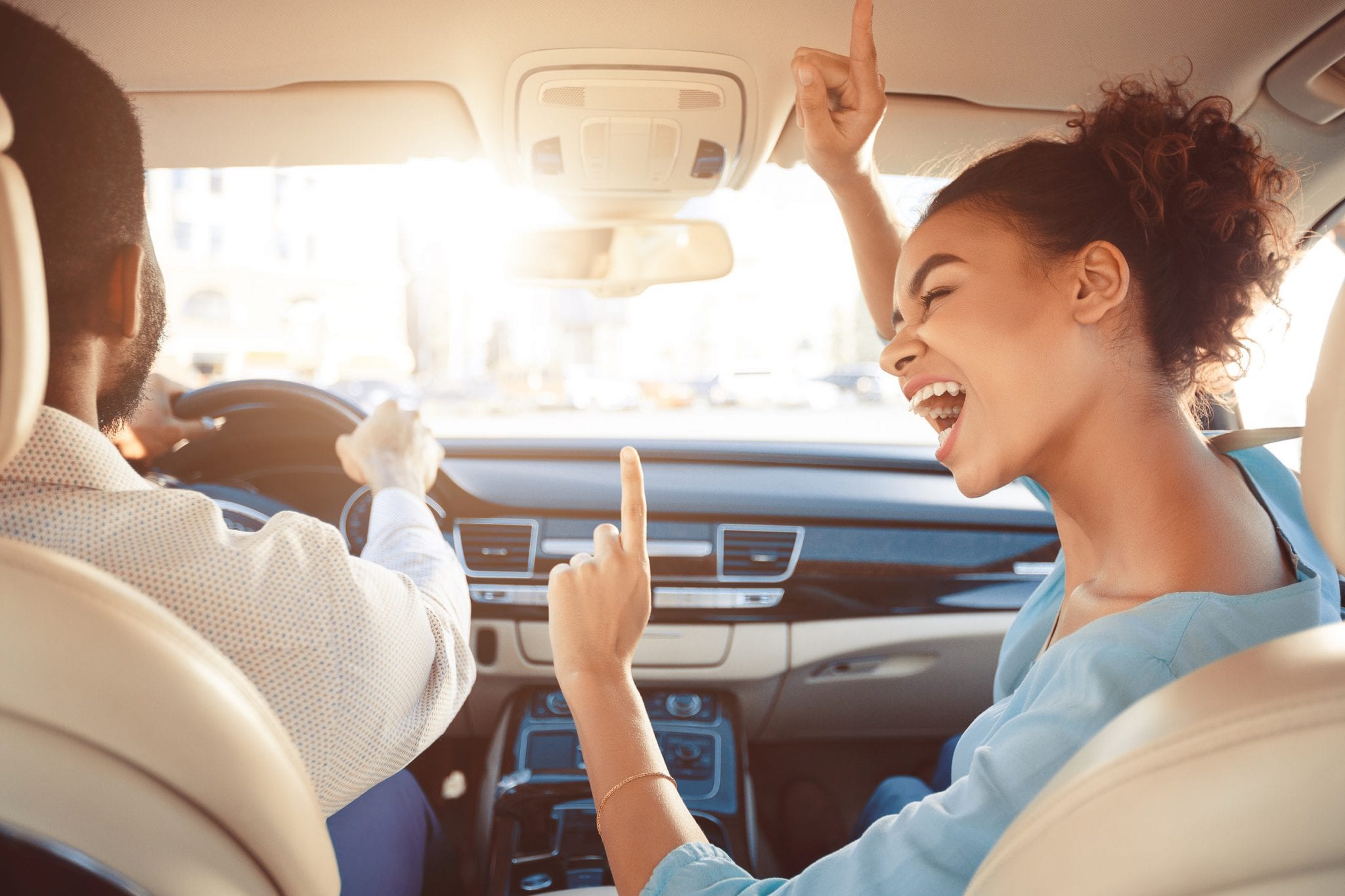 Sabina, from the family lifestyle blog Mummy Matters, shared with us that while her family loves to listen to all types of music, there are definite preferences when it comes to the school run and road trips:
"As a family, we always have music playing in the house, the car, at the beach, and on picnics. We don't tend to have one specific type of music though, we listen to everything from pop and rock, to classical and trance it completely depends upon the time of day and how we are all feeling.
"On the school run in the morning, it's usually something really upbeat or silly that the kids can sing along to, we like to get the day off to a good start with music. If we are travelling a long distance, then it might be something like Rag'n'Bone Man or James Bay because the kids are usually plugged into their tablets, and I like this kind of music to focus on my driving.
"On the whole, we tend to create Spotify playlists for different moods and activities which are filled with all of our favourites."
Maja, from the travel blog Away with Maja, shares with us some of her favourite songs to listen to on a road trip, mentioning some classic tracks that certainly vibe with our findings for road trip playlists:
"I love listening to music on road trips and I usually create a new playlist before any big trip just to get me ready to go! I have so many favourite songs for road trips, but if I had to choose a top three, I'd go with 'I'm Gonna Be (500 Miles)' by the Proclaimers, 'Go Your Own Way' by Fleetwood Mac, and 'Hopeless Wanderer' by Mumford & Sons."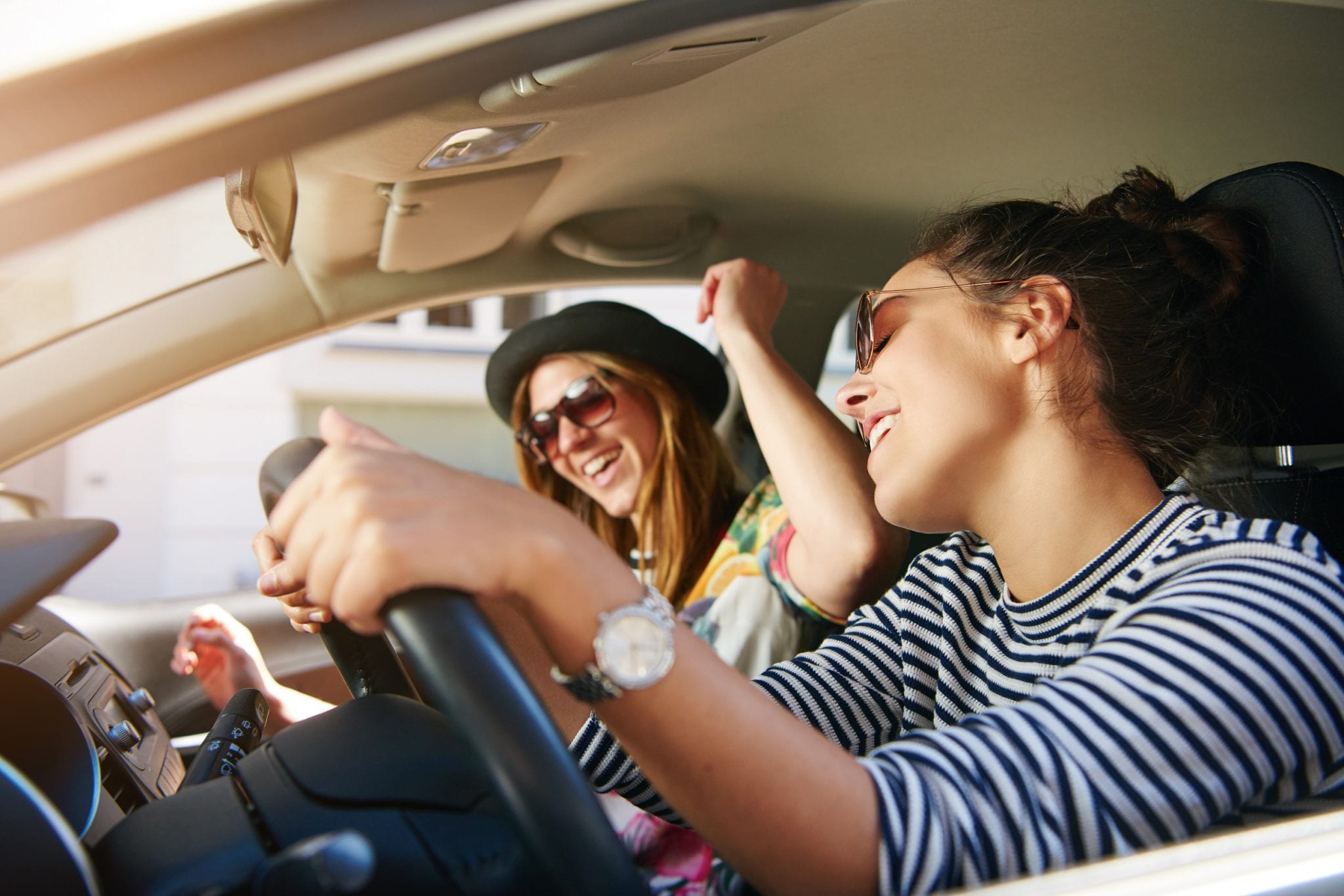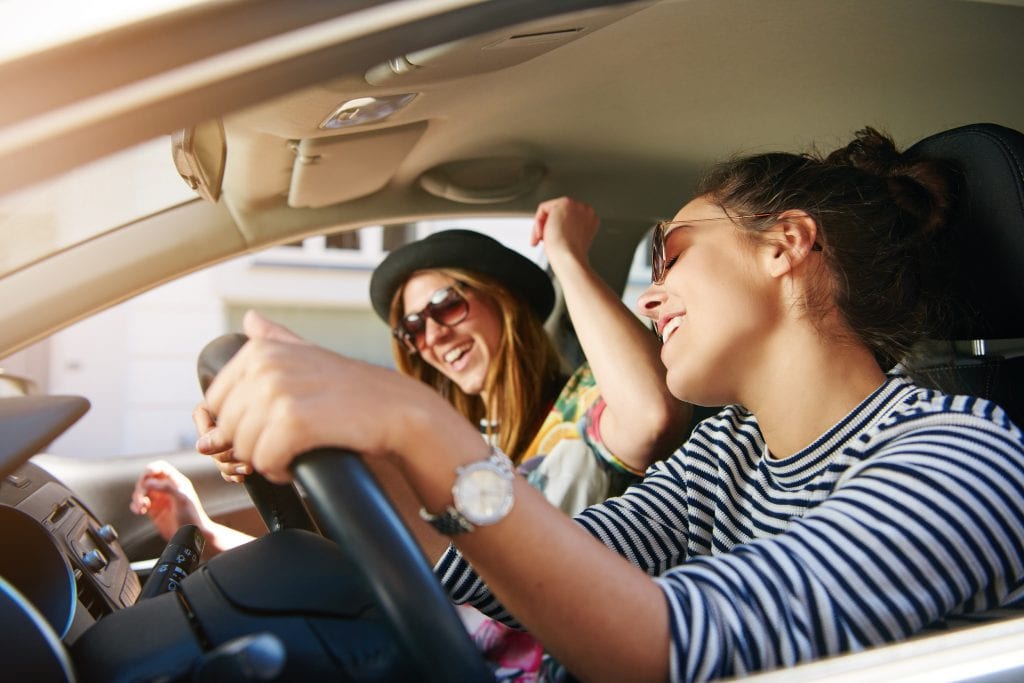 A driving playlist for everyone
So, which driving music playlist is your favourite? Will you be using one for tomorrow's school run, car journey, or your upcoming road trip? Please feel free to share the study and our playlists with friends and family. We hope a few of your most beloved driving songs made an appearance.
Why not grab some cheap day insurance, pick a playlist, and hit the road while listening to some of the best driving songs listened to by your fellow drivers?
For more fascinating data-led content, helpful guides, and driving tips, make sure to visit our news page.