Looking for an epic road trip idea that involves beautiful coastlines, historic attractions, stunning mountains, hiking trails, incredible wildlife, delicious local food and much more? Well, the answer may be closer than you think… introducing the North Coast 500 in Scotland.
Want to learn more? In this guide, we showcase the route, look at what there is to see on the road trip and answer frequently asked questions.
Jump to a specific section:
What is the North Coast 500 in Scotland?
Spanning 516 miles, the North Coast 500 (NC500) is an incredibly scenic route along Scotland's majestic north coast. The route officially starts and ends at Inverness Castle, but you can, of course, start and finish your route wherever you like if you don't plan on completing the full circuit. One of the world's most beautiful road trips, the North Coast 500, which launched in 2015, highlights the very best of the north Highlands, from mountains and lochs to woodlands and seaside towns, allowing drivers to discover all of its beauty with one amazing trip.
The NC500 is certainly an adventure but completely accessible to all. By sharing driving duties with a friend or loved one (consider cheap temporary car insurance for quick and easy cover), you can be exploring Scotland's most astonishing scenery for yourself.
What to see on the NC500?
Below, you can find our NC500 map featuring the best places to eat and sleep as well as a range of attractions covering different types, from history and castles to golf courses. When browsing the map, use the interactive key on the left-hand side to hide/show different attraction types and categories.
Adventures & Off-Road
The North Coast 500 is really one great big adventure but along the route, you will find many smaller delights to thrill and excite. There are many opportunities to venture off the beaten path, explore rugged trails with astonishing scenic vistas, or enjoy an activity that takes you into the thick of the action – even if that means heading into the water.
You can look forward to exploring famous mountains like Ben Loyal, enjoy the most incredible views along the dramatic Bealach na Bà Road, take a John O'Groats Ferry to the Orkney Islands, and fly high above the beach with Golden Eagle Ziplining. Along the route, you can also go looking for Dolphins with Ecoventures, and enjoy some amazing hikes such as at Stac Pollaidh, Suilven and on Shieldaig Island.
Coastal Beauty
The Scottish coast is a thing of true splendour and it's only right that on your NC500 route that you take in as many of the coast's beauty spots as possible. With dramatic coastlines, picturesque beaches, epic cliffs, and pretty seaside towns, there's plenty to savour wherever you turn.
There's the remote nature of Red Point Beach, the majestic Smoo Cave in the limestone cliffs of Sutherland, and the stunning views at Cape Wrath Lighthouse. You can go pony trekking on the beach with Gairloch Trekking Centre, kayak to the gorgeous Summer Isles, and even stay at wonderful Dunnet Head Lighthouse at Scotland's most northerly point.
Discussing the coastal beauty you'll find on the route, Jenny from Monkey and Mouse tells us: "The west coast is adorned with beautiful beaches and turquoise seas. Don't hesitate to stop at stunning small beaches, as long as you can find somewhere to park your car safely (not on the grass verges or in passing places!). You may well be surprised and find that you have the beach all to yourself!"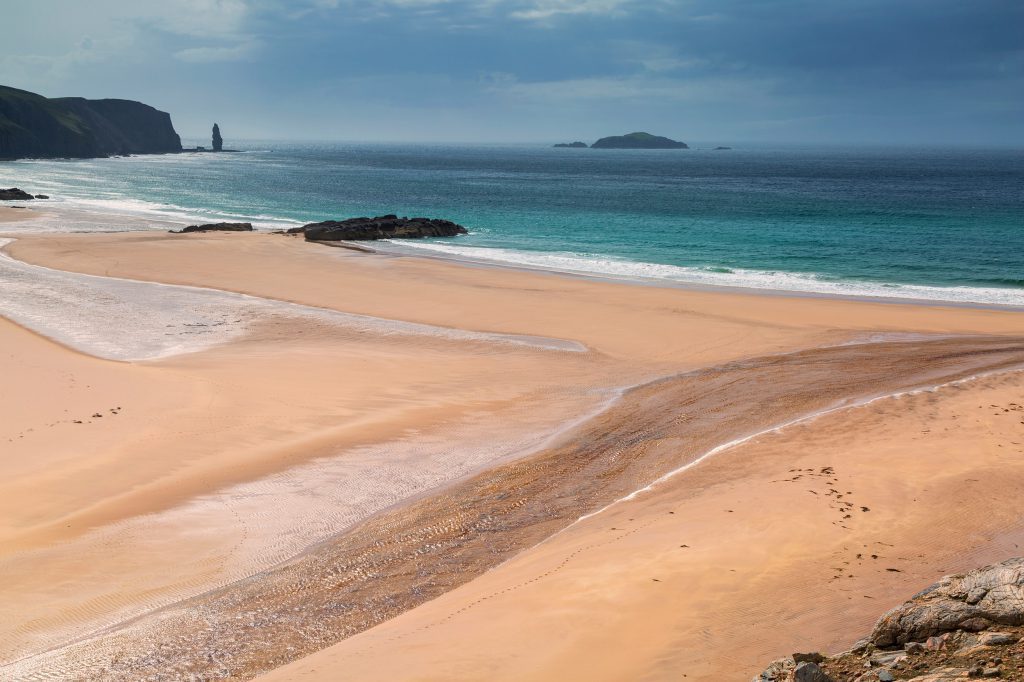 History & Castles
Scotland has a deep and fascinating history. Fortunately, so much of it is embedded along the North Coast 500, giving visitors plenty of chance to experience this history for themselves. There are castles in abundance to explore, fascinating museums, and even battlefields to discover.
To name just a few, Dunrobin Castle is a sight to behold and a must-visit, with its fairy-tale-like design and 13th-century origin. The beautiful Castle of Mey overlooks the Orkney Islands and boasts a lovely garden to wander in. Culloden Battlefield is an important testament to the Jacobite Uprising, the Highlanders' Museum boasts 40,000 artefacts to peruse, and above the River Nairn, you will find the 4,000-year-old Clava Cairns cemetery.
Towns & Villages
All across the North Coast 500, you will find a range of lovely towns and villages to explore. These locations will play key parts in your exploration of the route, providing hotels, restaurants, shops, and refuelling stations. But they are more than just pitstops, these locations have plenty to delight those who visit.
There's Inverness, the cultural capital of the Highlands with awesome attractions such as a castle and botanic gardens. Applecross, a place of epic beauty located between the mountains and the Isle of Sky. The famous John O'Groats is located at Scotland's very tip and a popular stop for many. Or how about Ullapool? A port that offers great food, hiking, boat trips, golf, fishing, and kayaking. From Thurso to Durness, Torridon to Gairloch, the Black Isle to the lovely seaside town of Dornoch and the peaceful loch-side village of Lochcarron, the options are endless.
Wildlife & Nature
Scotland is home to some incredible wildlife and nature. On the NC500, you will get to experience the very best of it. From gardens to amble around to waterfalls, islands, and nature reserves to discover, those who enjoy the natural world will find plenty of attractions to please them.
There are lovely gardens to explore including the likes of Inverness Botanic Gardens, Inverewe Garden, and Attadale Gardens. Along the route, you will also find some amazing waterfalls to enjoy, notably the impressive Rogie Falls and memorable Big Burn Falls. You can also look forward to visiting Beinn Eighe National Nature Reserve and the bird sanctuary at RSPB Udale Bay, as well as taking the Handa Island Ferry to see the puffins.
Golf Courses
As Scotland is the home of golf, no trip here would be complete without enjoying a few holes and the courses on the North Coast 500 are some of the best in the country. From Championship courses to scenic links, there is something for every level of golfer and each location comes with its own rich history and stunning views.
For the more advanced, why not try a Championship course? Around the route, you can find Royal Dornoch, Brora Golf Club and Castle Stuart. Or, take full advantage of your surroundings by teeing off on a links; Reay Golf Club, Durness Golf Club and Gairloch Golf Club are all wonderful options. Historic courses come aplenty too, with Golspie and Lochcarron dating back to the 1800s and Wick not much later, being established in 1907.
FAQs about the North Coast 500
Where to stay on the North Coast 500?
There is plenty of accommodation at hand along the North Coast 500. With a bit of planning, you will be able to grab yourself a bed at some really lovely locations with a variety of different options available, from hotels to camping sites. If you are looking for a North Coast 500 accommodation map, simply toggle the map above to only show places to stay.
Looking out to Torrisdale Bay is the family-owned Bettyhill Hotel in its Highland surroundings, near Inverness is the epic 16th-century Tulloch Castle Hotel, and overlooking Loch Gleann Dubh is the Kylesku Hotel, which dates back to the 1800s. Or for golfers, how about the luxurious Links House Royal Dornoch adjacent to the incredible Royal Dornoch golf course?
For those who fancy a bit of camping along the route, you can consider the most northerly campsite in the UK, Windhaven Cafe, Camping and B&B. In Glen Glass, there is Black Rock Caravan Park, named after a 120ft deep gorge. Or when in Ullapool, how about Ardmair Point Holiday Park with views across Loch Kanaird?
For something a bit different, there is Rua Reidh Lighthouse – that's right, you can stay in a real lighthouse. In Wester Ross, there is the magnificent Torridon Resort, set in 58-acres of parkland. When you are in John O'Groats, you can consider a series of eco-friendly lodges by Together Travel.
Where to eat on the North Coast 500?
Eating on the North Coast 500 is no dull affair either and making scheduled food stops can be a whole other attraction to add to your itinerary with some of the amazing dining options on offer. Whether you are looking to go all out and try luxury meals made from the freshest local ingredients or are just looking to top up your lunchbox, there is a wonderful range of places to try.
Luxury food comes in no short supply in the Scottish Highlands with Michelin Guide-recommended Applecross Garden, the globally applauded Captain's Galley and the gourmet Torridon on offer. For something unique, the Downright Gabbler in Inverness offers luxury food and themed nights or, try Lochinver Larder's menu featuring 18 different types of pie!
Adam from Jacks Alt-Stays recommended them, telling us: "If you're a foodie, you've got to make sure you stop off at Lochinver Larder – the best pies in the West Coast of Scotland! They have a delicious mix of savoury pies and sweet pies, ready for either sit in or takeaway. Trust me, you don't want to miss out on their homemade, golden-brown goodness."
Looking for something simple? The Cabin at John O'Groats is a modest place serving delicious portions of fish and chips. Similarly, in Ullapool, The Seafood Shack serves a range of fresh-caught seafood to visitors. Simpler still, the West Coast Delicatessen in Ullapool, The River Bothy in Berriedale and Roasters Coffee Box in Poolewe can offer picnic items galore or quick bites.
If you want something to take home as a memento, a range of breweries and distilleries can be found on route, including Clynelish Distillery (makers of Johnny Walker Whisky) and the Black Island Brewery. Or why not treat yourself to a box of luxury chocolates from Cocoa Mountain?
How long does the NC500 take?
With just over 500 miles of road to cover, the North Coast 500 isn't a quick road trip and it's recommended that you allow at least five days for the full journey. However, for those who want to spend more time exploring the incredible attractions or going off the beaten path to really appreciate this area of Scotland, we'd recommend at least seven days (or more if you are able!)
Are there many petrol stations in the Scotland 500?
There is a great range of filling stations along the NC500 route and so you shouldn't worry about not being able to top up whether you are looking for petrol or electric charging. Although we'd still recommend you plan your fuel stops before driving the North Coast 500, there are plenty of opportunities to top up as you travel. To help you in your planning, we have created the below map with both petrol stations and publicly accessible electric charging points on the route.
Can you do the NC500 in Winter?
Knowing the chances of snow in Northern Scotland are high during the colder months you may be asking yourself 'can you do the Scotland 500 in winter' and the answer is yes. There are pros and cons to tackling this road trip during the winter months, although some of the attractions might be working on reduced hours due to the shorter days and weather, you'll find the route to be much quieter and even more beautiful under a blanket of snow. It's worth being aware that you'll come across some single-track roads on your journey, which are likely to be more dangerous in cold conditions so be sure to check the weather every day and brush up on some winter driving tips beforehand. However, during the winter months (if you are very lucky) you might be able to see the Northern Lights on a clear night, a great reward for battling the tougher elements!
Tips for driving the North Coast 500
If the North Coast route 500 in Scotland is starting to sound appealing to you, perhaps you will be interested in a few pearls of wisdom from those who have already been. Read on to discover some helpful tips.
Take your time
Kathi, a Scotland blogger and host of the Wild for Scotland podcast, has enjoyed the NC500 herself, and spoke to us about her advice for those who want to try the route: "The North Coast 500 is so much more than just a road trip. Each region on the route has so much to offer. From beautiful scenery and fascinating history to welcoming communities and fun activities – it would be a shame to rush through just to complete the loop.
"My top tip for the North Coast 500 is to slow down and take your time. Plan to spend at least one week to 10 days on the route (if not more). That way you'll have time for a hike in the Torridon hills, sea kayaking around the Summer Isles or a day trip to see puffins on Handa Island.
"If you have less time, choose a section of the route and explore those regions more in-depth. That way, you'll actually see more and have a more positive impact on the communities you visit."
Adam from Jacks Alt-Stays agrees, telling us: "Make sure you take your time! There's so much to see and explore that you could easily do the North Coast 500 over two weeks, it just depends on how much driving you want to do. I'd suggest four days as a minimum but if you've got the extra time, use it!"
It's also something that Kim from Going the Whole Hogg recommends, explaining: "give yourself as much time as possible and not try to rush the route in a few days. The scenery is so beautiful, and there are so many things to see and do along the way, that it can easily take a whole day to cover just 10 or 20 miles."
Plan ahead
Gemma and Campbell, from the travel blog Highlands2Hammocks, stressed to us the importance of planning ahead to get the most of the NC500: "When it comes to touring the northerly coast of the British Isles, the most important thing is preplanning. This includes everything from planning your fuel stops to avoid the more expensive spots, to planning where you are going to buy your food, as well as planning your restaurants, campsites, hotels, and activities all well in advance.
"Other things you can do to make your trip run smoothly involves downloading Google Maps to work offline, as you will struggle for internet at certain points along the route. You should also ensure that you have plenty of water and food with you as you journey so that you do not find yourself stranded without anything, and of course, take everything home with you without leaving any litter in this breathtaking part of the world.
"Most importantly, don't forget to relax, enjoy the journey and soak up the stunning views along the route. There is a reason that the Scotland 500 route is known around the world as one of the most scenic road trips you can do."
Planning ahead is also something that Jessica Norah, a travel writer at Independent Travel Cats advises. Speaking to us about her top piece of advice, she shared some specific examples: "My husband Laurence and I have driven the route several times in recent years, and the number one tip we have for travellers is to plan ahead. This helps ensure that you will have accommodation in the areas you wish to stay, have packed the right gear, and get to do the things you really want to do on your trip.
"Planning ahead can also help you keep to a budget. We'd recommend booking your accommodation and any guided tours before your trip. We'd also recommend checking on weather forecasts, packing raingear and waterproof hiking shoes, and checking the opening days and hours of attractions you want to visit before you set off. Many businesses along the route area are seasonal."
Accommodation
Natasha, from the travel blog The World Pursuit, shared with us some advice when it comes to accommodation. Explaining how helpful it can be to book early and not just hope to find a bed somewhere along the route:
"After travelling the NC500 we realised how important it is to book ahead. Many of the towns along the route are quiet and small, with just a handful of accommodation options. There are no large hotels, but rather charming family-run guesthouses. This means that accommodation books up quickly, especially during the summer season. If you miss your chance to book well enough in advance, you may be stuck paying an inflated price, or run the risk of having nowhere to stay!"
Travel during the shoulder months
Bradley from the travel blog Dream Big Travel Far, advises that the off-peak months are the best time to do the route: "The NC500 is by far Scotland's most famous road trip, and rightly so. But if you intend to drive it during the summer months, then you will be constantly contending with thousands of other campers and cars. Instead, the best time to drive the NC500 is in the shoulder months of spring (March-May) and autumn (September-November).
"If you time your trip correctly, you get to enjoy clear roads, good weather (at least by Scottish standards), and hopefully no midges! We drove the NC500 in October/November and had the most incredible time, seeing hardly any other campers along the entire way. We also had our personal pick of all the best wild camping spots and chance to snap photographs of all the top locations without other people bustling around."
Pick your direction
A simple question but one that many people wonder when planning their trip is which direction to go in. Well, Adam from Jacks Alt-Stays offers his input: "The age-old question, clockwise or anticlockwise? In my opinion, you've got to start in Inverness, up the East Coast and do the North Coast 500 anticlockwise. This is purely because the views and landscapes in the west are far more impressive – always leave the best till last!"
Respect the code
When travelling in a new area, you should always be respectful of the surroundings and your actions. In Scotland, you can do this by following the Scottish Outdoor Access Code. Maja from Away With Maja recommended this to us after she took the trip: "The North Coast 500 remains one of the most epic trips I've done so far – it is truly an incredible part of Scotland. For my tip, I would advise anyone planning a trip to read the Scottish Outdoor Access Code. Whether you are camping or enjoying the countryside on hikes, it's important to follow the code to leave no trace and preserve the landscape for the future. We need to do our best to respect this beautiful environment so it can be enjoyed by generations to come!"
Scotland's North Coast 500
As you can see, the North Coast 500 is a truly special road trip. There is nothing quite like it with its incredible scenery, exciting attractions, and adventurous spirit. We hope this guide proves useful for planning your own trip along the NC500. Make sure to utilise the maps provided and start thinking about all that you would like to see and do during your journey.
Not a regular driver, but want to experience this epic route for yourself? With temporary car insurance you can be behind the wheel in no time, covered for the exact amount of time that you want to explore the North Coast 500.
For more tips, guides, and advice, make sure to visit our news page.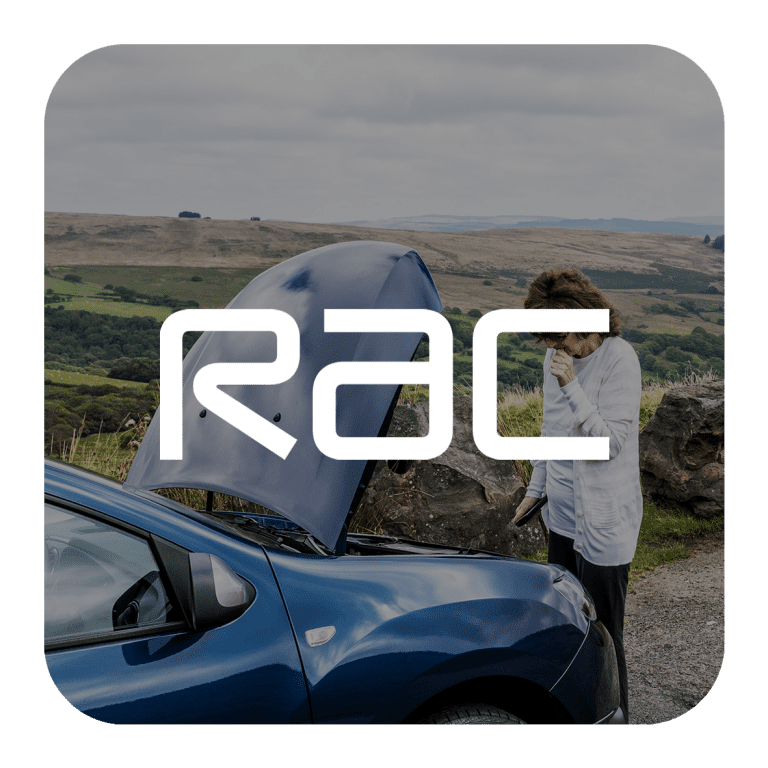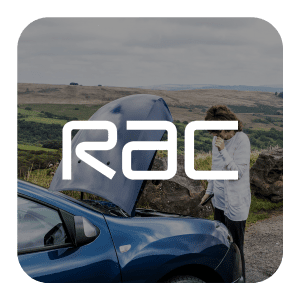 Don't get caught short on your next road trip.
This guide from the RAC explains exactly why it is so important to take out breakdown cover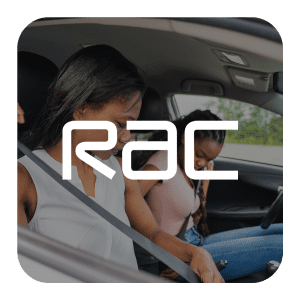 Planning a road trip?
Take a look the this comprehensive checklist from the RAC to make sure you don't forget anything