Road trips never go out of fashion and so many of us look forward to exploring the best drives that Europe has to offer. Whether it's traversing multiple destinations with a bunch of friends or driving through the most romantic locations of a single nation with a loved one, there is something for everyone. But what are the best European countries to drive in? Everyone will have their own opinion, of course, but is there an objective way to rank the nations of this vast continent and decide once and for all where is best to drive? Well, we believe we have done it.
Using a range of different data sets and metrics, comparing data like the number of cars on the road, the price of petrol, quality of roads, driving safety, and more, we have compiled the definitive list of the best countries to drive in. We have even created a handy heat map to help visualise the final scores. So, read on below to discover which country ranks where and who performs the best in various categories. There are some fascinating results! All that's then left to do is to arrange temporary car insurance and explore these fascinating locations for yourself!
Contents
What are the best European countries to drive in?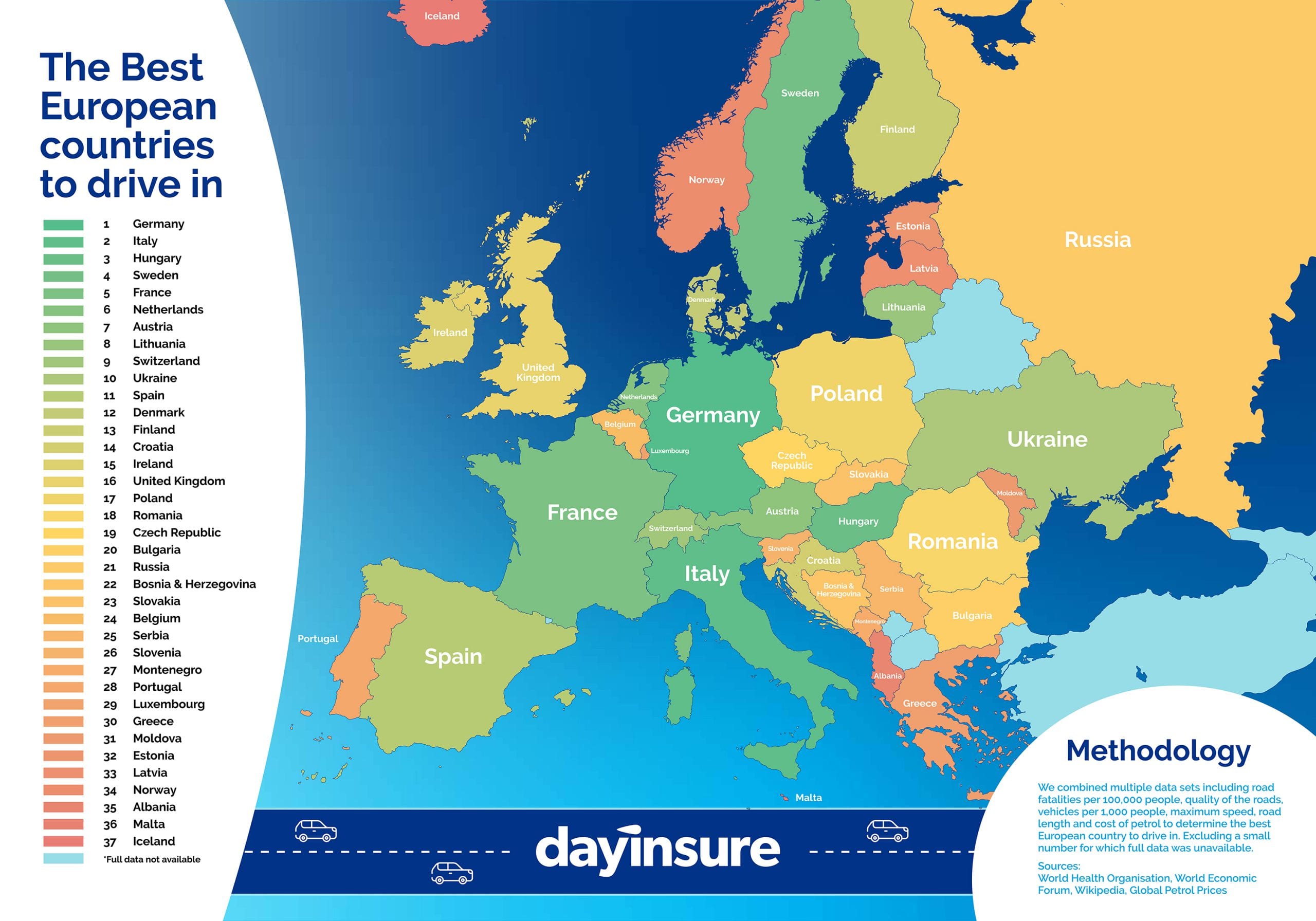 Click the map to expand.
Our findings yielded some especially interesting results. As we compared countries over a range of data, we found that Germany came out on top as the best European country to drive in and Iceland came out as the worst.
The top 10 best European countries to drive in
1.Germany
2.Italy
3.Hungary
4.Sweden
5.France
6.Netherlands
7.Austria
8.Lithuania
9.Switzerland
10.Ukraine
Germany not only topped one category (maximum speed) but it came in the top 10 for three other categories. Although it was let down slightly by its petrol prices and the number of vehicles on the road, this still wasn't enough to knock it from the top spot.
The top 10 worst European countries to drive in
1.Iceland
2.Malta
3.Albania
4.Norway
5.Latvia
6.Estonia
7.Moldova
8.Greece
9.Luxembourg
10.Portugal
Iceland came in last place. It not only came at the bottom of the list of countries with the most vehicles, but it also came in the bottom five for three other categories – almost the reverse of Germany. In fact, the highest it came in any category was 19th in quality of road.
Kat from the road trip and motorhome travel blog Wandering Bird has driven all over Europe and this includes visiting both our top two ranked countries – Germany and Italy. Speaking to us about her favourite European countries to drive in, Kat said: "We travel extensively by motorhome, and our favourite European countries are the ones which make this easy. We also love anywhere with mountains or breathtaking scenery. Germany, Switzerland and Norway are three of our favourites (so far!).
"We love Germany for the friendliness of the people and the great roads. Everywhere we go, we've been met with a warm welcome and incredible views. It's easy to find places to stay and very easy to navigate on a road trip."
And speaking about second-placed Italy, Kat praised the food and culture and also noted that "Northern Italy and the Dolomites will take your breath away around every corner, whereas cities such as Florence or Rome leave you speechless at the history down every street."
Methodology
We combined multiple data sets including road fatalities per 100,000 people, quality of the roads, vehicles per 1,000 people, maximum speed, road length and the cost of petrol to determine the best European country to drive in. Excluding a small number for which full data was unavailable.
Sources: World Health Organisation, World Economic Forum, Wikipedia (vehicles per capita), Wikipedia (length of roads), Global Petrol Prices
What are the safest European countries to drive in?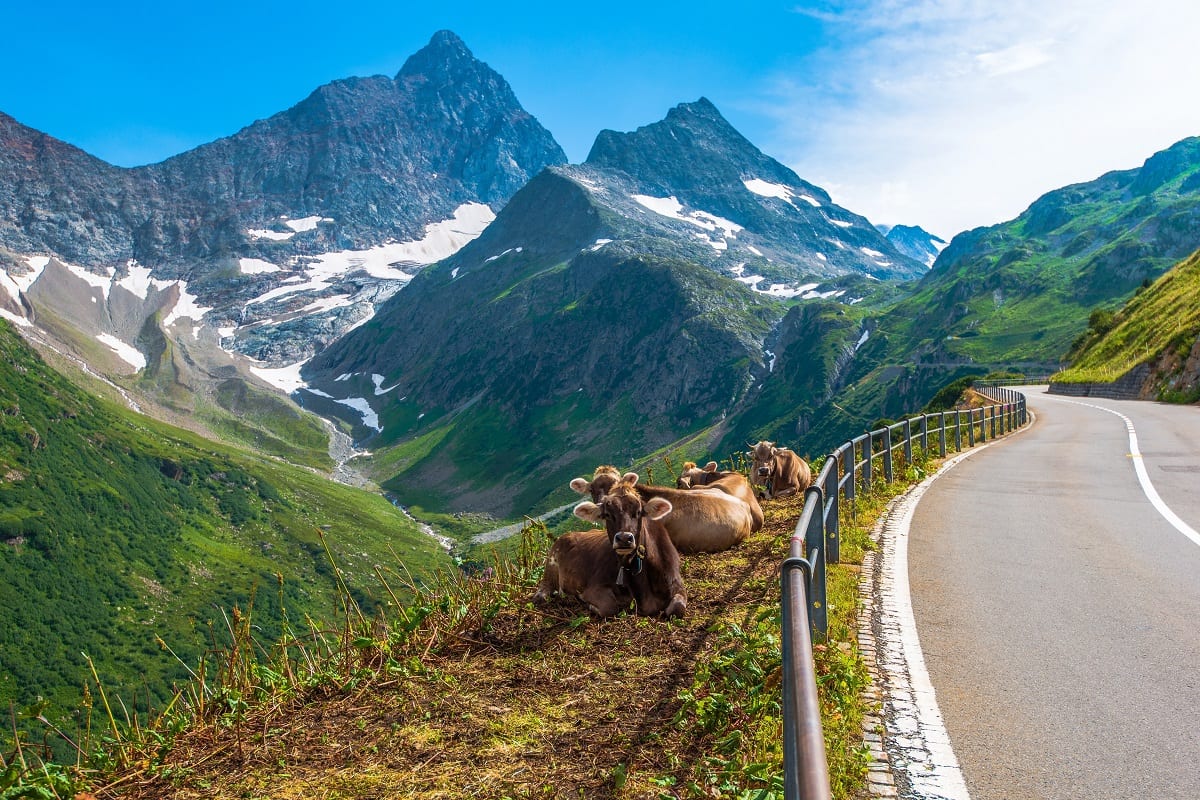 Now that we know the overall rankings, let's talk about the various data sets that went into the equation. First up was safety. Thanks to the World Health Organisation's (WHO) global status report on road safety 2018, we were able to look at the estimated fatalities per 100,000 people in each country. This gave us a good idea of which European nations were safest to drive in.
Coming in as the joint first safest country to drive in is the scenic, mountainous nation of Switzerland, with WHO finding an estimated 2.7 road fatalities per 100,000 people (with 223 recorded in total during 2016). Switzerland has national drink driving laws, motorcycle helmet laws, seat belt laws, and a ban on handheld mobile phone use.
Matching Switzerland in first place is Norway – known for its glaciers and deep coastal fjords. With 2.7 estimated road fatalities per 100,000 people and 143 deaths in total during 2016, Norway finds itself being one of the two safest countries to drive in Europe. Like Switzerland, Norway also has strict driving safety laws on drinking, motorcycle helmets, seat belts, and mobile phone usage.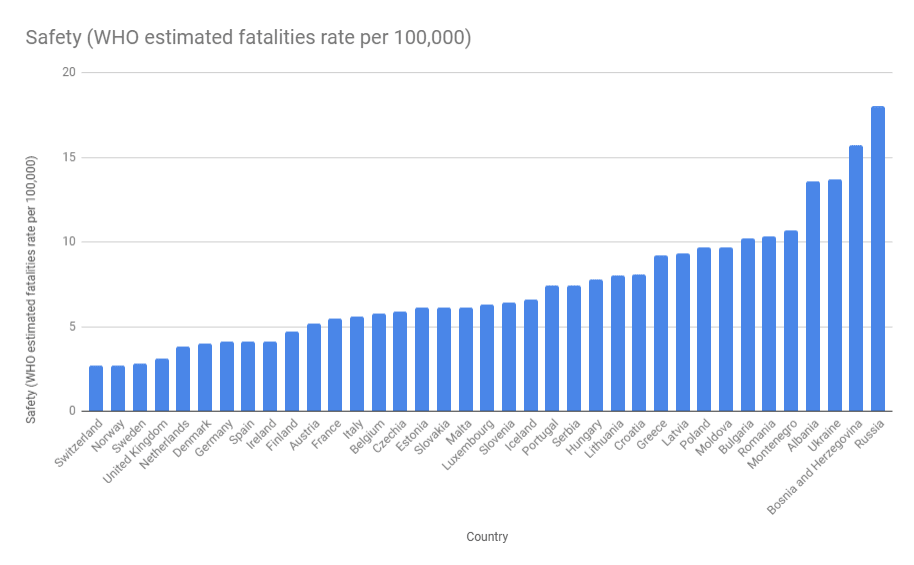 The 5 safest countries to drive in Europe
1.Switzerland
2.Norway
3.Sweden
4.United Kingdom
5.Netherlands
Coming in last place as the least safe country to drive in is Russia, with an estimated 18 road deaths per 100,000 people. With the enormous size of its population, this resulted in 25,969 road fatalities in 2016. Russia has the same laws on the books as the top two, but this hasn't resulted in increased safety on the roads of this ancient and beautiful land. The poor quality of Russia's roads (ranking in the bottom four) likely contributes to this. Though, as you will discover later, Russia certainly has its virtues!
The 5 least safe countries to drive in Europe
1.Russia
2.Bosnia and Herzegovina
3.Ukraine
4.Albania
5.Montenegro
Which countries have the best quality roads?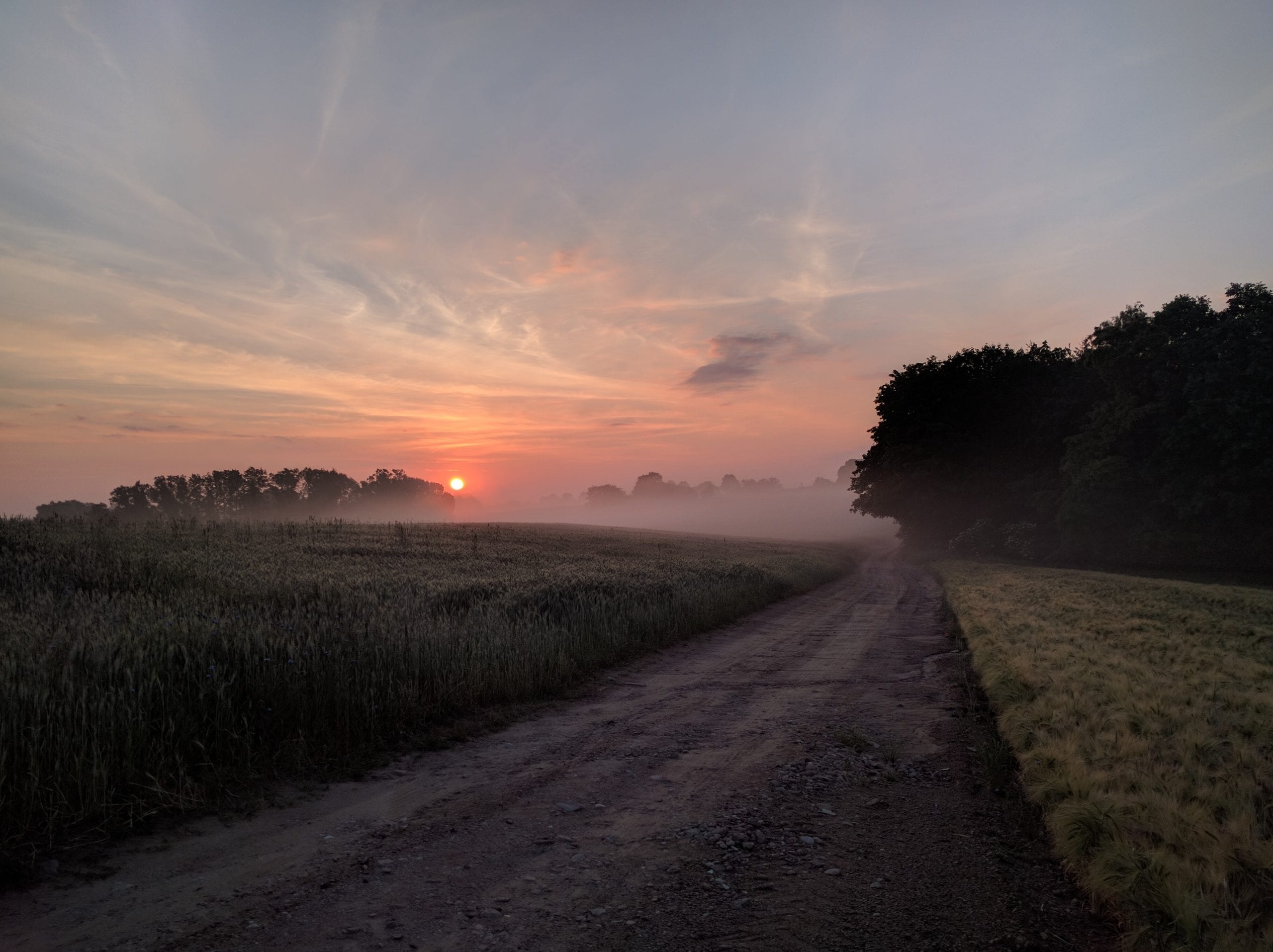 When driving anywhere in the world, bumpy roads can make for unenjoyable trips. That's why this metric was so important to include – the quality of the roads. Knowing there will be no bumps along the way is something many people look for when planning a road trip, so make sure there literally are none by visiting the countries that came out top in this category. The World Economic Forum provides a yearly report that includes quality of roads, so this acted as our data source.
Coming in on top for Europe was Switzerland, which comes out third overall worldwide, only losing out to the United Arab Emirates and Singapore. The road network here is ferociously maintained in order to keep it as smooth as possible, meaning fewer bumps on your drive.
At the other end of the scale is Ukraine. Out of the 137 countries examined around the world in the report, Ukraine came in at 130th, with a score of 2.4 out of a possible 7. One of the primary causes of potholes in particular (a major factor in road quality) is when the soil underneath a road freezes and thaws, contracting and expanding. Although during the summer months Ukraine can be warm, during the winter months it can be very cold, which may be a contributing factor.
The 5 European countries with the best quality roads:
1.Switzerland
2.Netherlands
3.France
4.Austria
5.Portugal
If you want to avoid any bumps in the road (both figuratively and literally) then taking a trip to Switzerland is a good idea. Not only did it top the quality of road category very easily, but it also came 9th overall as one of the best countries to road trip in.
One of the reasons Switzerland can afford to maintain the roads so well is because of their vignettes. Vignettes are small stickers that must be bought and displayed in every car before driving on the motorway. The money raised by these can then be put back into maintaining the countries larger roads.
The 5 European countries with the worst quality roads:
1.Ukraine
2.Moldova
3.Romania
4.Russia
5.Bosnia and Herzegovina
Ukraine comes bottom of this category. Whereas Switzerland was given a 6.3 for road quality (out of a possible seven) Ukraine only managed to achieve a 2.4. The problem is so bad that tools like UA Roads have been set up in order to assist people who need to travel the country.
For UA Road, the data is gathered through an app and stored on people's phones that note any bumps or disruptions and feeds back to create a database and visual maps of the best and worst roads in Ukraine. Out of the 169,441 roads analysed, a whopping 71,552 were deemed to be in poor condition.
Which countries have the least vehicles per capita?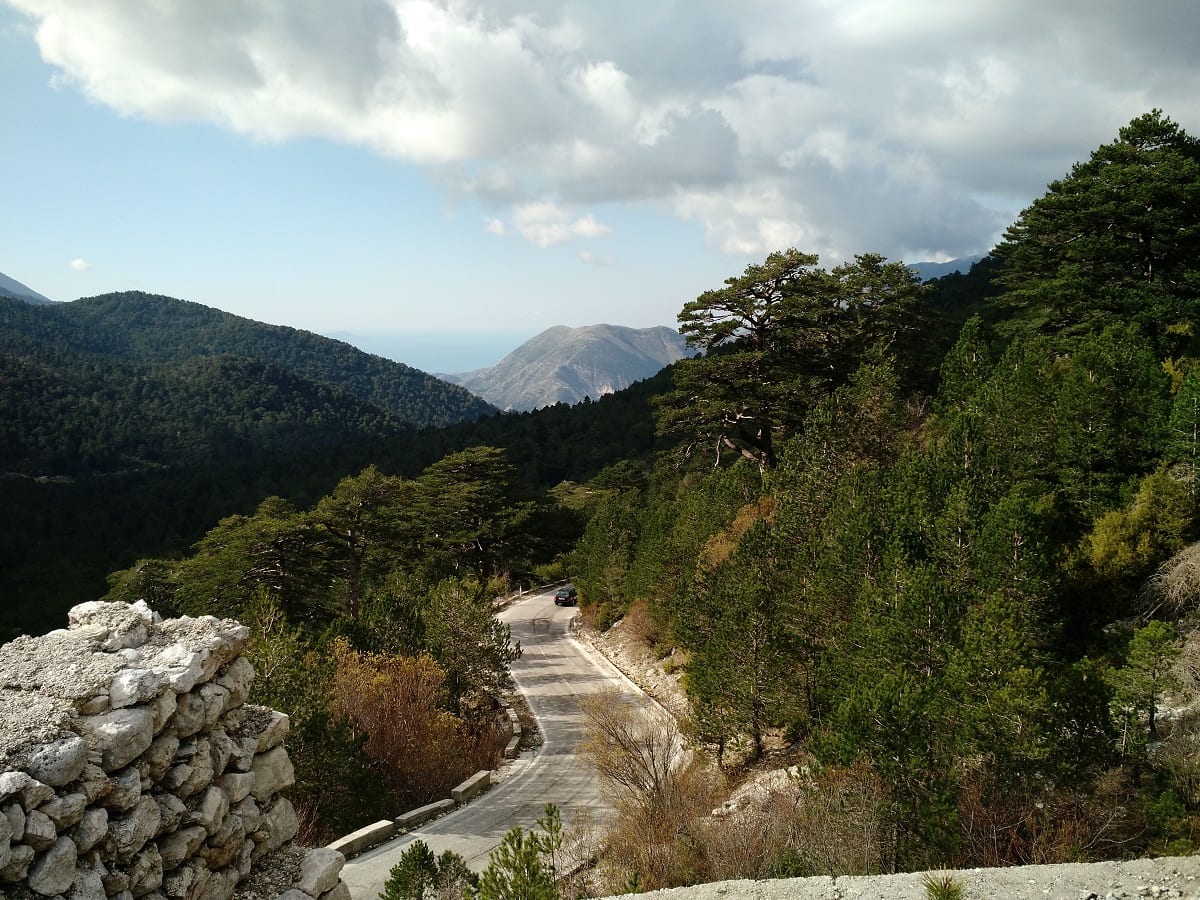 The third metric that we used to make our ranking of the best countries to drive in was 'vehicles per capita'. When planning a road trip, you want to enjoy the experience of driving, not clogged up in traffic. Therefore, the least number of cars on the road will surely be something to look for. Using already existing data, we compiled a list of European countries, ranking them according to the least motor vehicles per 1,000 people.
Albania won this particular round, coming in top with just 167 vehicles per 1,000 inhabitants according to the most recent figures available. Coming in second place is Moldova, banking some valuable points in our league table. Moldova has 201 vehicles per 1,000 people, showing that the country isn't as obsessed with cars as some other European nations. The first and second placed Albania and Moldova, however, only equated to an overall ranking in our table of 37 countries of 35th and 31st respectively.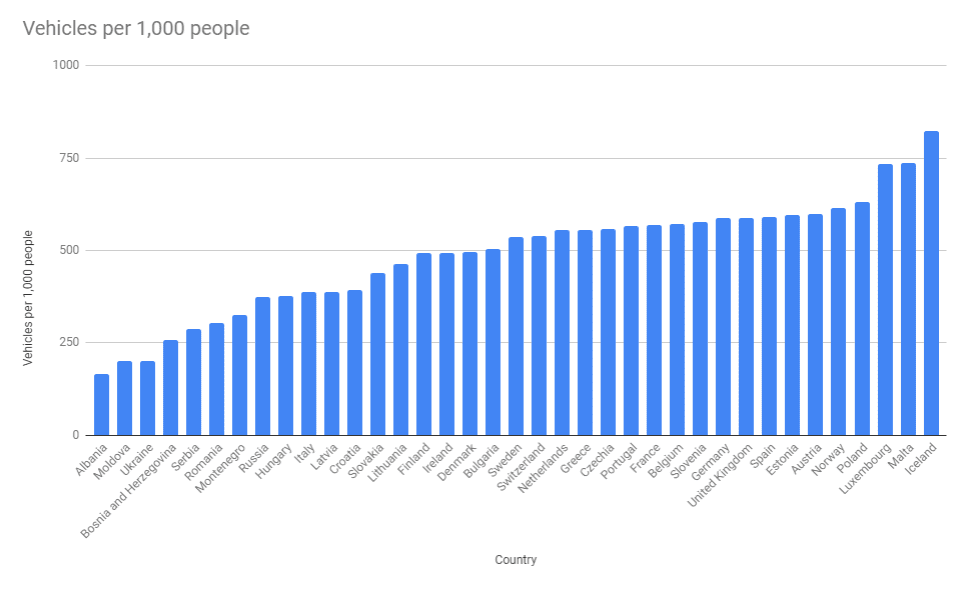 The 5 European counties with the least vehicles per capita
1.Albania
2.Moldova
3.Ukraine
4.Bosnia and Herzegovina
5.Serbia
Coming in dead last and with the most vehicles per 1,000 people is Iceland with a whopping 824. This staggering number is far above even the likes of car-mad Germany and the UK. Iceland will certainly be a treat for the eyes during your road trip, but these stats might suggest you will have plenty of competition on the roads. However, as Marta from the travel and photography blog In a Far Away Land told us about her road trip to Iceland, the cars per capita don't always equate to busy roads.
In fact, Marta was very surprised to hear about this stat, telling us: "I think because the Icelandic population is so small, yet the land so vast, the roads never seem to be busy. Even Reykjavik, the capital, felt like a small town. The car traffic associated with capital cities was nowhere to be seen. As soon as I left Reykjavik, I was constantly surrounded by the countryside and often felt like I was very far from any civilisation."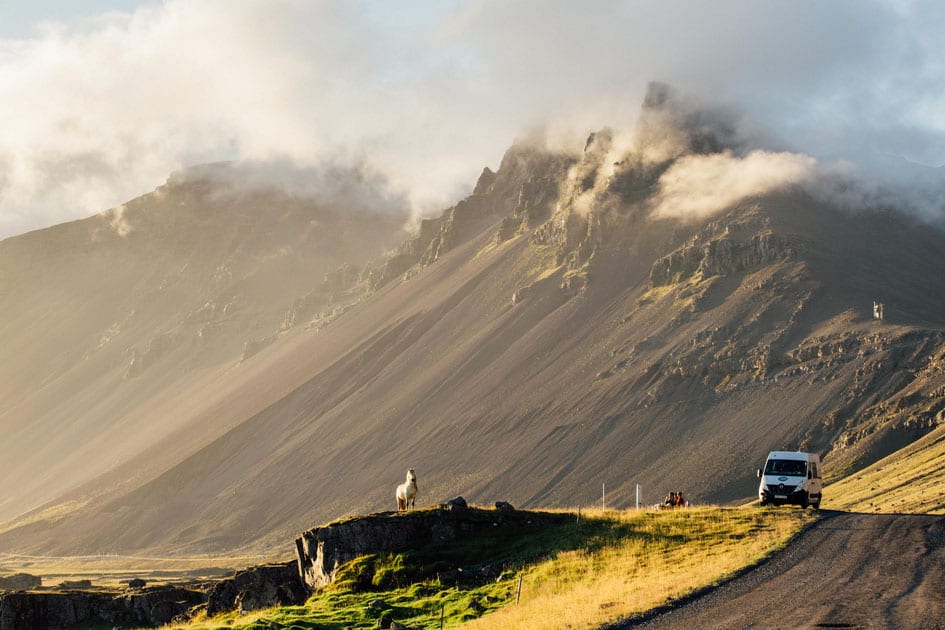 Image credit: In a Far Away Land
Marta told us a little more about her driving experience in the country: "I found the roads in Iceland to be very well maintained and easy to drive on. There aren't many roads to start with. Getting lost is rather difficult and following the famous Icelandic ring road is as easy as it gets."
Marta also spoke to us about Iceland's f-roads, explaining that things get trickier when venturing into the highlands: "Those dreaded f-roads are defined as windy, mountainous, gravel roads with no bridges and river crossings". Only open at certain periods of the year, Marta adds: "Under no circumstances should you attempt driving on these roads without a proper 4×4 vehicle. Experience in crossing fords, as well as proper navigation skills, should accompany you at all times."
The 5 European counties with the most vehicles per capita
1.Iceland
2.Malta
3.Luxembourg
4.Poland
5.Norway
Back to this category's winner, Albania, while it ranks fairly low in our overall rankings, what is it actually like to drive there? Well, Dariece from the travel blog Goats on the Road has gone on a road trip to Albania, telling us about her experience:
"Driving in Albania was unlike anywhere we've experienced — both in a good way and in a bad way. For one, the roads weren't properly marked on Google Maps, or on the GPS system we had in our rental car and many roads weren't marked at all. We saw hardly any road signs either and often found ourselves driving down dirt roads that lead to someone's home! The upside of this was that the people were friendly and willing to give us directions when needed, and the scenery on the road trip was stunning."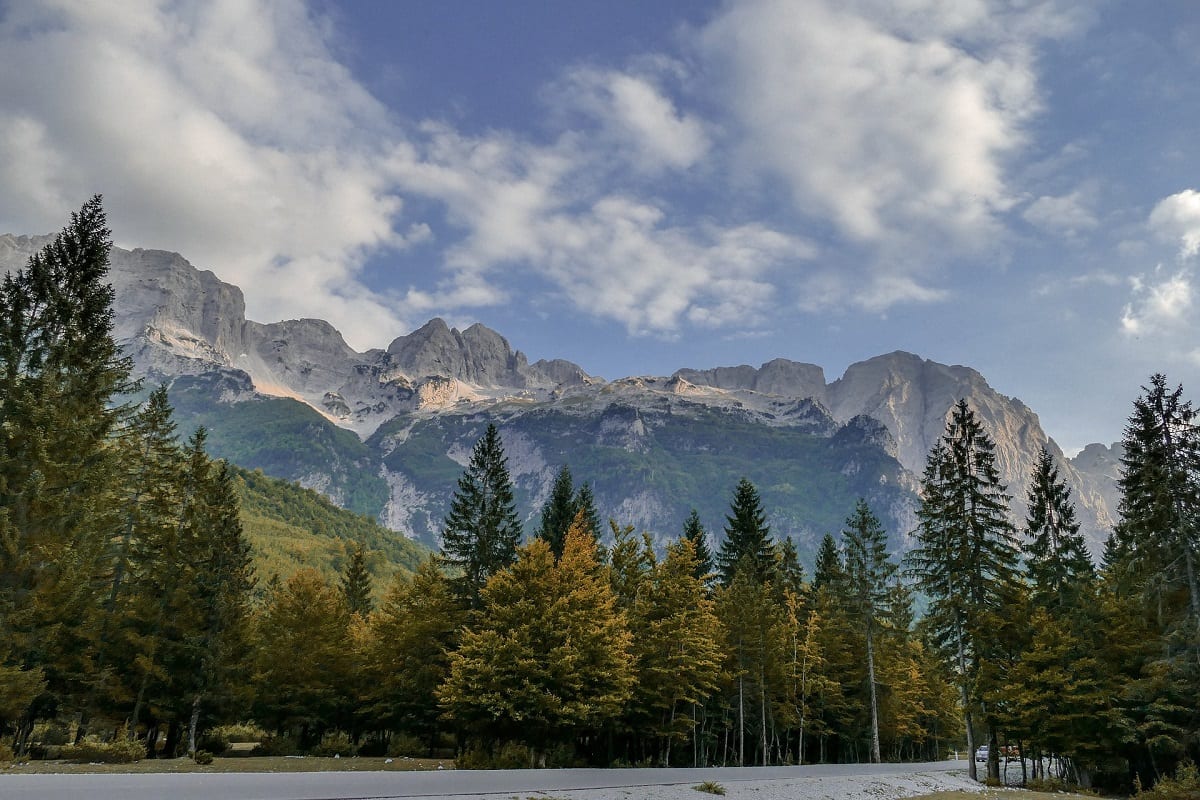 We also asked Dariece if the small number of cars per capita in Albania equated to quiet roads during her road trip: "Yes, there are hardly any cars on the road in Albania — when we were outside of the cities. What we learned during our trip was that many of the people who do drive only learned to do so recently. During the communist regime, driving was reserved for professionals and because of this, the most experienced drivers on the road may have only been behind the wheel since the early '90s."
Dariece also explained that the driving was pretty hectic, with zig-zagging motorbikes, pedestrians crossing "wherever they felt like", and vehicles swerving between lanes. Perhaps it's no surprise Albania ranks in the bottom four for safest countries to drive in.
On a more positive note, Seth from the travel blog For Something More has some great memories of driving in Albania with his partner Julia, telling us how engaging it was: "There was almost always something to explore and experience. From hidden beaches to roadside markets, to small uncrowded hiking trails." Seth said they even wished they had more time beyond the eight days they spent there and the thing they enjoyed most was "the mellow vibe we got from all the people and places we met and experienced along the way."
Seth also felt like the low ratio of cars to people was reflected in Albania's rural places, saying the driving was "very relaxed, and there were many times we were the only car on the road." However, the capital city Tirana was more "intense". Seth finished by telling us: "Overall, we felt the driving in Albania was quite chill, and we found the majority of the major roads to be well maintained."
Which European country has the highest max speed?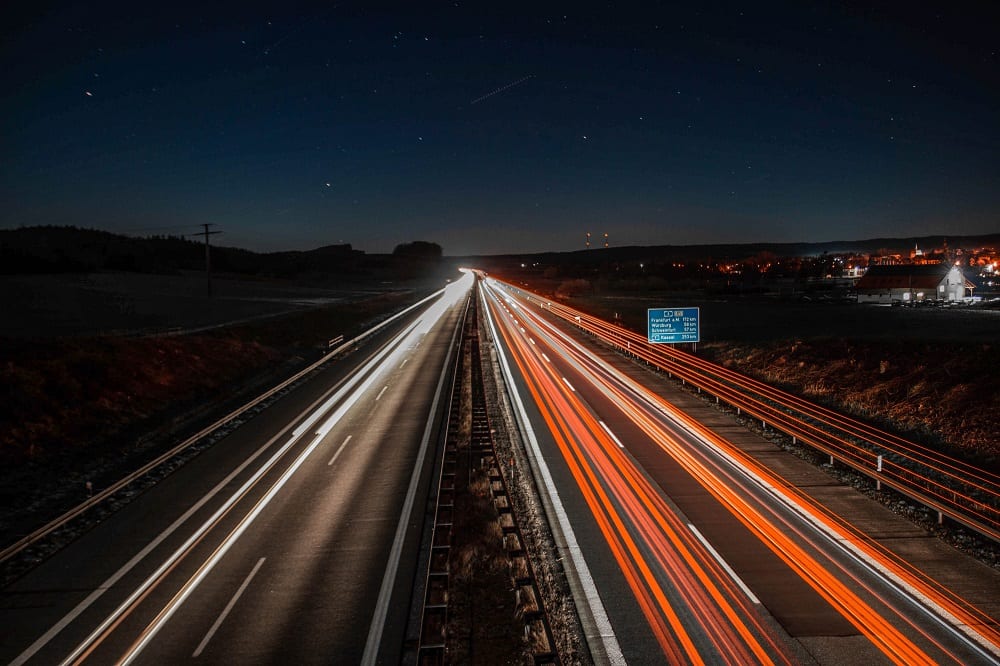 Our fourth metric referred to countries with the highest maximum speed limit. Using data from the World Health Organisation, we found the maximum freeway speed limits for each country in order to find those with the fastest, and slowest, roads. When driving, many people get the itch to put their foot down and being free to do that is something we wanted to take into account when looking for the best European country to drive in.
The UK itself came 29th in this category, with its maximum speed of 112kmph (70mph) falling on the lower end of the scale. Coming in as the fastest country with areas featuring no maximum speed limit was Germany. Lastly, with a maximum speed limit of only 80kmph (50mph), was Malta.
The 5 European countries with the highest maximum speed limits:
1.Germany
2.Italy
3.Bulgaria
4.Poland
5.Ukraine
To likely no one's surprise, Germany topped the list of countries with the highest maximum speed limit thanks to its famous Autobahn. A spiderweb network of major roads around the country, the Autobahn is known globally as it doesn't have a federally mandated speed limit, only area-specific limits. Therefore, on the right stretch of road here, you are free to put your foot to the floor and see what speeds your car can achieve.
Olivia, a travel blogger at My Wandering Voyage, has previously been on a road trip in Germany: "When a friend and I travelled to Germany, we thought the best way to see everything we wanted to in a short amount of time would be to drive." Olivia explained that "driving in another country can be daunting since you need to learn the rules of the road and the meaning of road signs quickly. From the get-go, the Autobahn was what I was most nervous about. It has quite a reputation for being a fast free-for-all."
She then reflected on her experience on the Autobahn: "In the more urbanised areas, accident-prone or construction zones, speed limits are posted. On the rest of the roadways, an advisory speed limit of 130km per hour is applied. There are speed cameras, so make sure to follow the rules! Another rule is to stay in the left lane unless you are passing. You will be honked at if you don't follow it.
"What I thought would be a nerve-racking experience was actually enjoyable. We were able to see a lot of the German countryside and stop when we wanted. As for the Autobahn, as long as you follow the rules, then you'll marvel at the efficiency of its social engineering!"
The 5 European countries with the lowest maximum speed limits:
1.Malta
2.Latvia
3.Estonia
4.Norway
5.Iceland
With the lowest speed limit in Europe, Malta's max speed clocks out at 80kmph (50mph). However, this lower speed doesn't mean the island is hard to travel, as there are only 3,425km worth of roads for you to explore! Because of this, there are no real highways or freeways in Malta, hence the low maximum speed limit.
Emily and Jacob, bloggers at Just Globetrotting, road-tripped Malta and told us about their experience and their thoughts on the low speed limit: "It was a ton of fun! The roads were easy to navigate. We didn't notice the speeds in Malta, maybe because we were experiencing such great views when we were driving around the island!"
Which European country has the cheapest petrol?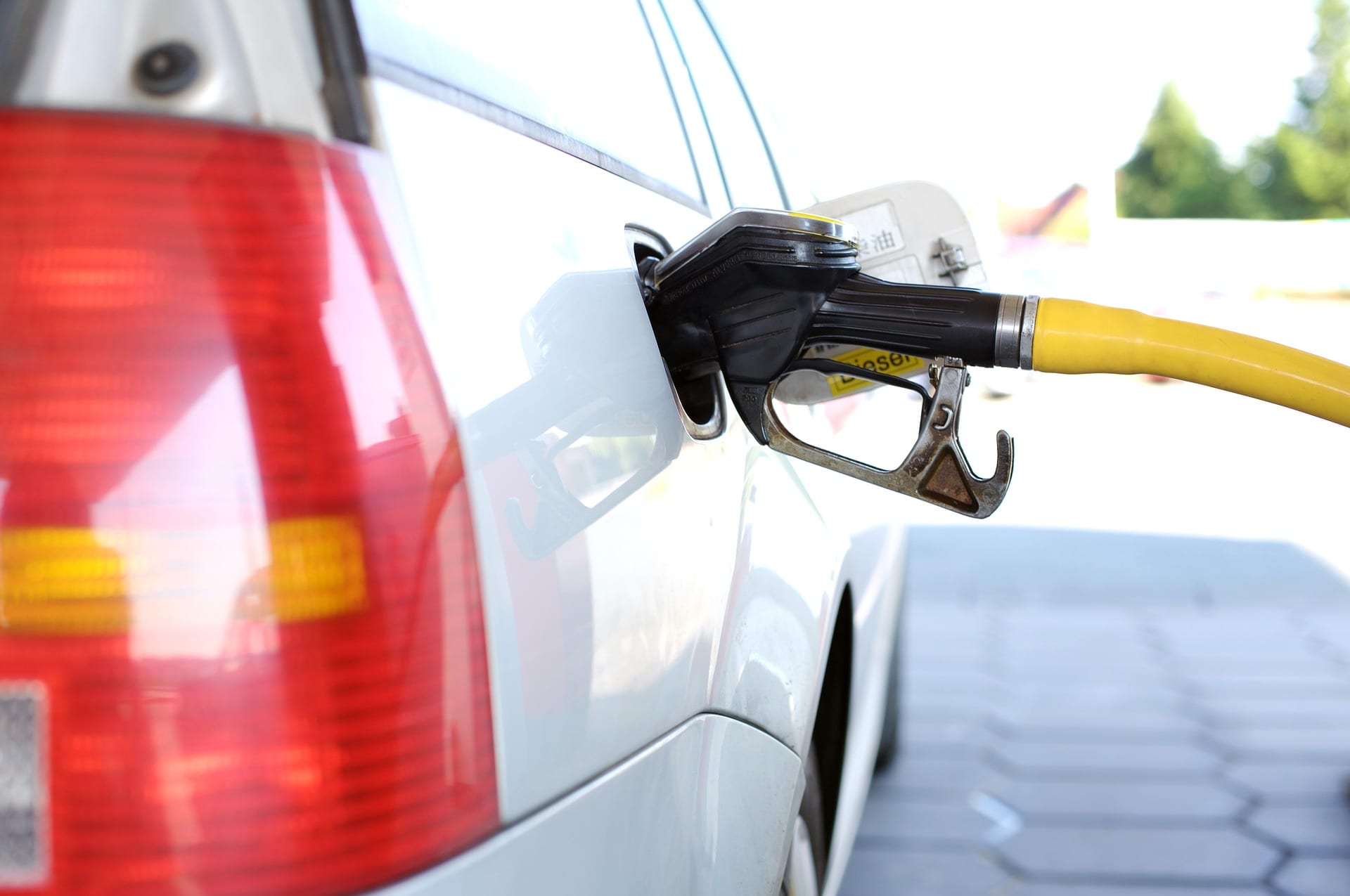 When deciding where you want to go on a road trip, there are numerous factors to consider. One of these is how much will it cost – which often means the price of petrol, espec. if you've hired a gas-guzzling motorhome for your trip. The last thing you want to worry about when exploring ancient landscapes and traversing beautiful locations is the cost of fuel. So, it made perfect sense to incorporate this important metric into our rankings. Using June 2019 data from Global Petrol Prices, we were able to rank the European countries from the least to most expensive.
Coming in first and making up for its last place in the safety rankings is Russia. At just $0.71 per litre, there is no country in Europe where it is cheaper to fill up your tank! With a few more rubles in your pocket, you can spend more on souvenirs and focus on exploring this vast landscape and its historic cities. Also making up for earlier results, Moldova came in second place but a fair way behind Russia, with $1.07 per litre.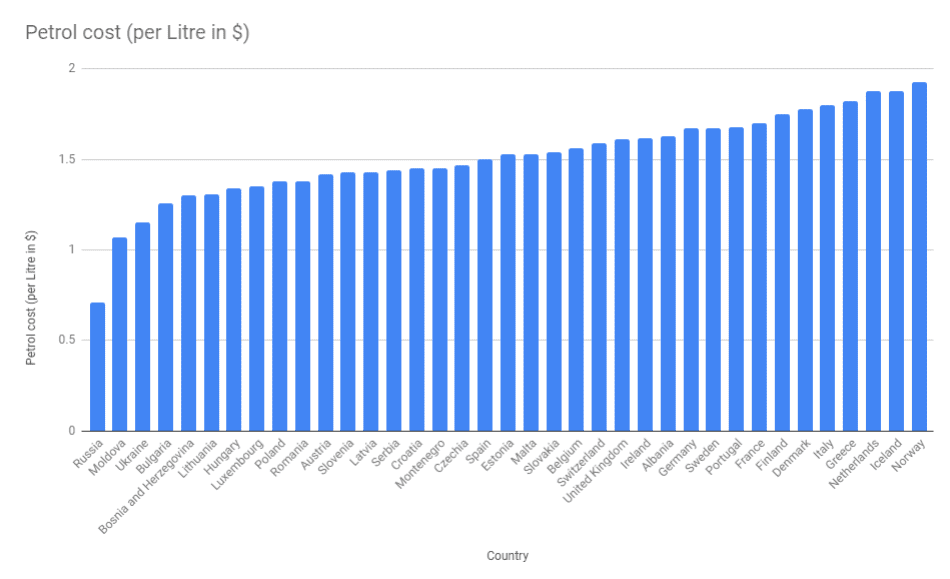 The 5 cheapest European countries for petrol
1.Russia
2.Moldova
3.Ukraine
4.Bulgaria
5.Bosnia and Herzegovina
Back to our winner, Joao from the travel blog Nomad Revelations, loved his experience of driving in Russia when travelling and noted that its cheap petrol was certainly a bonus: "I crossed Russia three times with my car: once back in 2004, another time in 2012, and most recently in 2017. For those who like to drive, having access to the cheapest fuel in Europe is always a favourable extra especially because Russia is the biggest country in the world, and any road trip in this country implies long driving distances."
Joao also commented on what he believes makes Russia such a wonderful road trip destination, calling it one of the most "underrated countries in Europe" and not at all how it is depicted on TV: "Going on several road trips in Russia allowed me to visit numerous historical cities and understand how the country landscape works. I also got to know many of the nation's different ethnicities that hold different traditions and values within the same country. There is a very interesting mix indeed.
"Russia features amazing wild nature, the best museums in the world, a very cultural and well-educated population, exotic mix of architecture, and a strong historical background. From my own experiences, I always tend to be amazed by the Russian people, who never stop surprising me by their welcoming friendliness. It doesn't matter which region or autonomous republic you visit, but somewhere on the way, you'll get an invitation for dinner, going out for coffee or a concert, or staying at someone's house."
The 5 most expensive European countries for petrol
1.Norway
2.Iceland
3.Netherlands
4.Greece
5.Italy
Unfortunately for the Norwegians, their country landed in the bottom spot, with a litre of petrol costing a pricey $1.93. Norway's early win in the safest countries rankings, unfortunately, hasn't translated to the overall standings where they finished fourth from bottom. Of course, this doesn't mean a road trip in Norway should be off the table, its scenery and friendly atmosphere helping to make it an appealing prospect for many.
Which European country has the longest road network?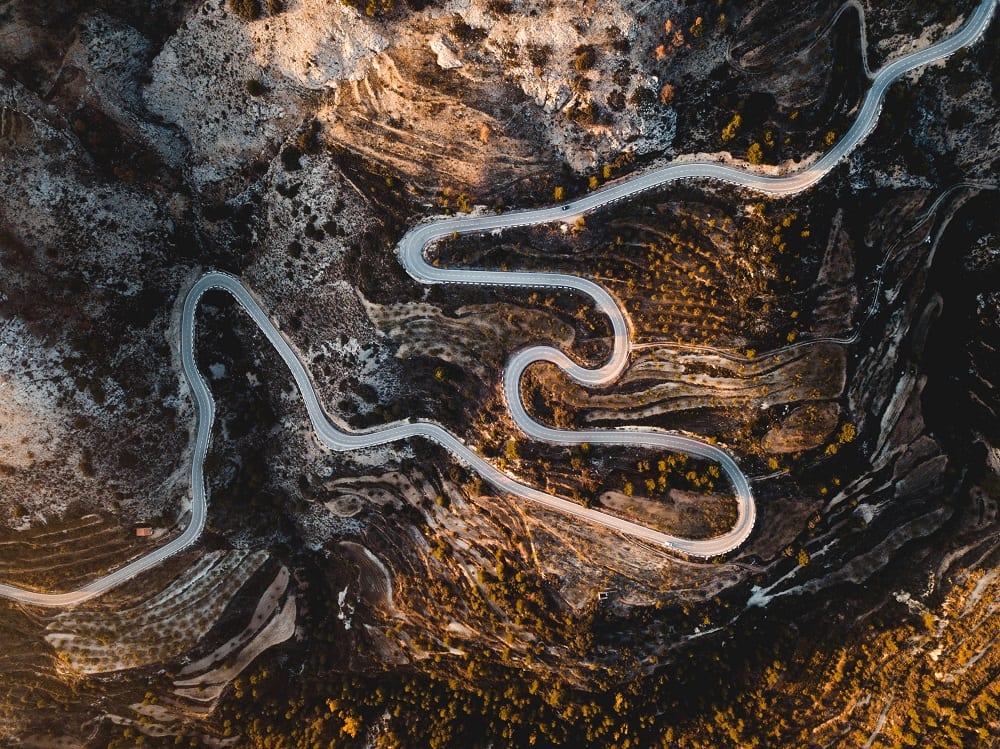 The final metric we used to discover the best European country to drive in was road length. What good is a country with great quality, uncongested roads if there are barely any roads to drive? For this, we used recently collected data that highlights each country's road length in kilometres.
Unsurprisingly, Russia, the largest country in Europe, came out on top with almost 1.5 million km of road. Second was France, with 965,446km of road in total. Unsurprisingly, the top five countries in this category are generally the largest in Europe. However, both Ukraine and Norway, two of the biggest countries in Europe, do miss out on top 5 status.
At the other end of the scale are Europe's smallest countries, followed by Iceland. Although not a small country, the vastly volcanic landscape Iceland boasts does mean that it's not as accessible, simply because roads are harder to build. Therefore, many people driving here rely on the famous Route 1, or Ring Road, which circles around the whole country and provides a fantastic sightseeing route for travellers.
The 5 European countries with the longest road networks:
1.Russia
2.France
3.Spain
4.Germany
5.Sweden
As the country with the third-longest road network in Europe, Spain is a popular place to road trip. We asked Inma, blogger at A World to Travel, about her experience: "Forget what you think you know about Southern Europe driving habits. Andalusia, the southernmost region of Spain, is as civilized when it comes to driving as the Nordics. Or at least that's what I found after our one week Andalusia road trip.
"Other than that, this was one of the most picturesque trips we've had in a long time. From historical cities full of great architecture and entertainment options to tiny seaside villages, deserted beaches (mind we travelled there in January, low season), gorgeous landscapes and more; it does have something for everyone."
The 5 European countries with the shortest road networks:
1.Luxembourg
2.Malta
3.Montenegro
4.Moldova
5.Iceland
Laura, from The Travelling Stomach, has experienced a Luxembourg road trip and was more than happy to discuss the experience: "Although not a typical road trip destination, we thoroughly enjoyed our day driving around Luxembourg, where else in the world can you drive through four countries in one day! We drove through vineyards, past castles and through forests all while exploring one of Europe's smallest countries. The roads around Luxembourg were super easy to navigate although Google Maps can be a little less reliable in the North, it led us astray taking us down a farm lane into Belgium!"
We then asked how the shorter road length affected Laura's trip: "We actually found the short road lengths to be a positive as we only had a short time in Luxembourg and wanted to cover a lot of ground. In one day, we were able to drive the length of the country with plenty of stops to try local wines (sadly, not for the designated driver), explore picturesque castles and even enjoy a village fete. Although there might not be that many roads, the variety of places you can visit and drive through is astounding."
Which European countries to drive in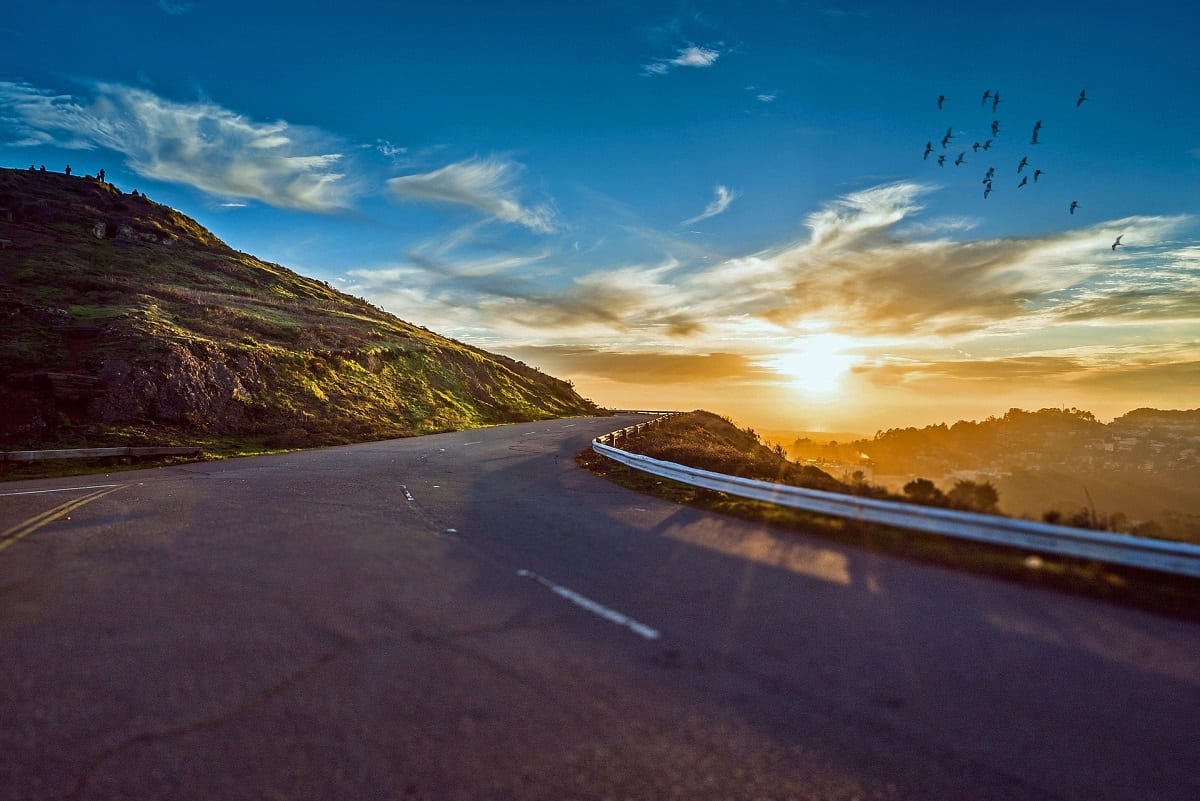 Driving in Europe has many virtues, that much is certain, and as you can see from our findings above, there is a plethora of countries that stand out from the pack – more than enough to start making plans for your next European road trip. Whether its table leaders Germany with no speed limits on the Autobahn, Switzerland and its highly safe and quality roads, or Italy which performed consistently well across virtually all categories for its overall second-place finish, there are many driving destinations in Europe to enjoy.
If you feel inspired to experience the roads of Europe, make sure to secure yourself some temp insurance for your car so you can have peace of mind and fully enjoy the experience.
You can also read more about our European specific car insurance

Planning your next European road trip?
Take a look at this essential checklist from the RAC here

Thinking of driving to France?
Check out the RAC's ultimate guide to driving from the UK to France here