Cornwall has it all. Its golden beaches stretch miles, its sub-tropical gardens are home to unique plants and its moorlands are rugged and beautiful. There are countless attractions you can visit during a holiday here and one of the best ways to explore the Duchy of Cornwall is by car. Especially when you consider that the South West came second only to the North West, Yorkshire and The Humber as the best place for drivers.
There are lots of coastal routes you can follow and roads across the moors that make the county the perfect destination for a driving holiday. If you are planning a driving holiday it's a good idea to insure someone else on the car by arranging temporary car insurance so you don't have to do all the driving.
After you've sorted out who will be sharing the driving, you need to plan the attractions you want to see during your break. We've given you a helping hand and here is a list of attractions that cannot be missed during your visit.
Bodmin Jail
Location: Bodmin
Great route to drive: Newquay to Bodmin Jail (19.4 miles and around 35 minutes)
The 18th-century prison of Bodmin Jail is one of Cornwall's most famous historical sites and is famously located on the edge of Bodmin Moor.
During a visit, you can discover life behind bars as an 18th Century prisoner and explore the many cells and features that make your experience at the jail a fun and educational adventure, and just a little bit scary!
A spokesperson from Bodmin Jail said there are some must-do events that you should attend and lots of guided tours to go on.
Guided tours
Heritage Tour – Mon, Tues, Weds, Thurs @4pm, 2 hr tour, £15pp.
Bodmin Town Ghost Walk – Weds 8.30 pm, 3 hr tour, £25pp.
Historical & Paranormal Tour – Fri, Sat, 6.30 pm, 2 hr tour, £25pp.
Events
Paranormal Evenings: Do you dare to spend a night in the UK's most haunted location? Check the website for the latest dates.
Scary Cinema Nights: Are you brave enough to join us in watching a horror classic, then tour the Jail after dark? Held every Thursday from 9 pm – 1 am. Yes… that's right… 1 am! Check the website for the forthcoming films.
There are lots of other places you can visit if you want to make a day of it. Bodmin Jail says: "Make a day of it and visit our other local Bodmin Attractions – The Bodmin & Wenford Steam Railway, The Cornwall Regimental Museum, Pencarrow House, and National Trust Lanhydrock House. Hire a bike and cycle the famous Camel Trail which runs west from Bodmin, through Wadebridge and follows the estuary to the pretty coastal town of Padstow; and north via Helland to the beautiful Wenford Bridge & Bodmin Moor."
Cornish Seal Sanctuary
Location: Gweek
Great route to drive: Falmouth to Gweek (around 10 miles and 25 minutes)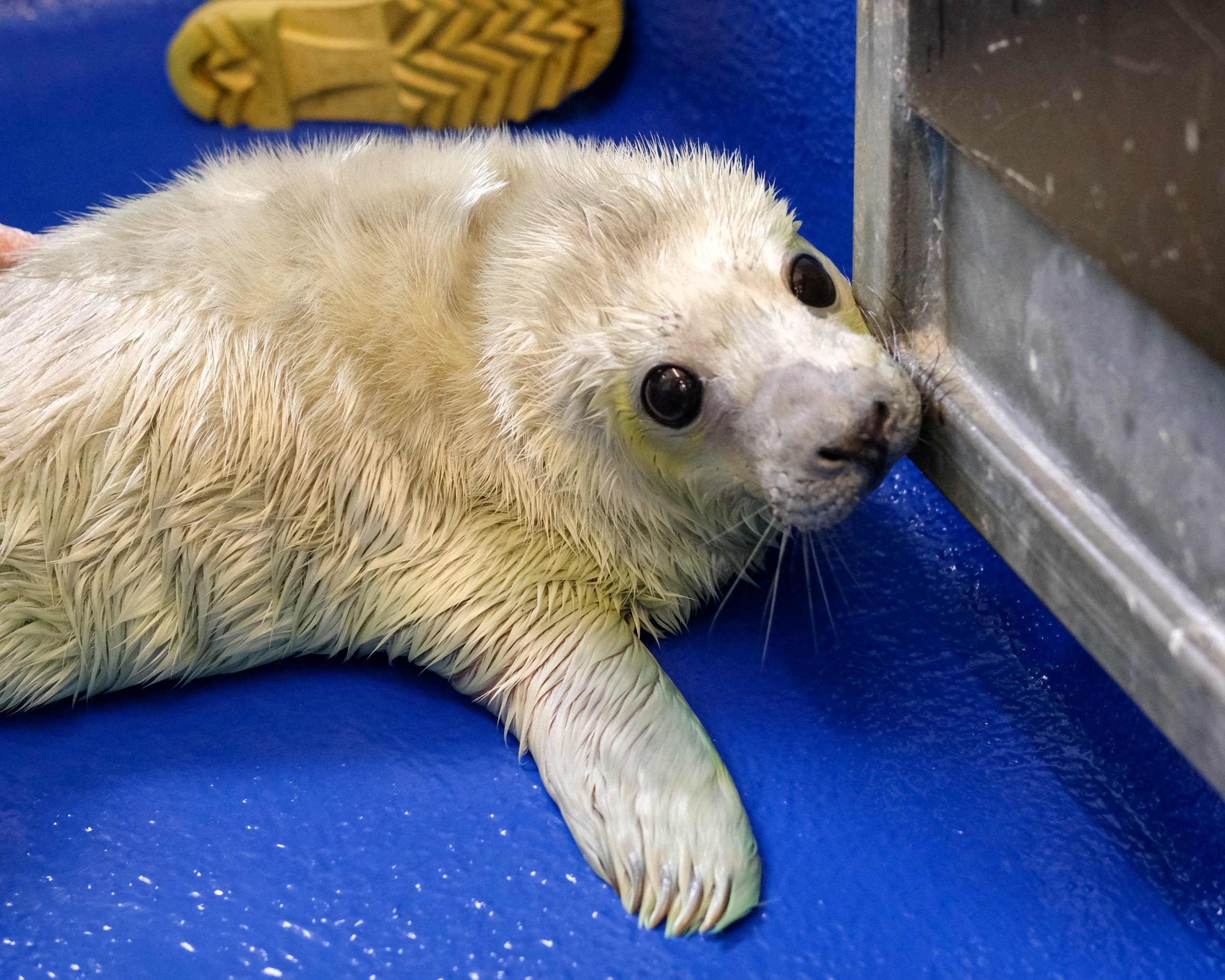 At the Cornish Seal Sanctuary, you will hear about dramatic rescues and meet the seal and sea lion characters whose individual stories are brought to life during your visit.
There are other animals you can see at Cornwall's only seal sanctuary and rescue centre and these include fun-loving otters, playful penguins and potty paddock animals.
The Cornish Seal Sanctuary told us a bit about the work they do and the stunning location of the centre: "You can see how we carry out life-saving work with our animals and nurture our new arrivals. You can also experience what it takes to become a marine expert. From a sneak peek at our food preparation area, to getting hands-on in our hospital pup pen, you'll get an insight into the science behind the Sanctuary.
"Tucked against the picturesque backdrop of the Helford River, the Sanctuary is a designated site of special scientific interest and an area of outstanding natural beauty. Our 42-acre centre also boasts a woodland quiz trail, café with undercover seating and our Discovery Cove Playground. Don't miss out on our great all-year-round events calendar."
Pup season for grey seals in the UK takes place over autumn and winter and during this time of year you will see rescued seal pups in the sanctuary's main Convalescence Pool alongside the resident Grey Seals.
Flambards Theme Park
Location: Helston
Great route to drive: Penzance to Flambards, Helston (14-15 miles and around 25 minutes)
Flambards Theme Park is the perfect destination for an unforgettable family day out with its fun mix of rides, indoor attractions and entertainment. From thrill-seekers to those who prefer a gentler pace, there's something for everyone to enjoy.
There is a plethora of attractions at the theme park and here Flambards tell us some of their most popular rides.
"Take a spin on the Hornet Rollercoaster, check out the amazing views from the top of SkyRaker – the drop, twisting ride, brave the Thunderbolt or journey into the dark on Space Race and prepare to get wet on the Colorado River log flume.
"Feel the G-Force on the 'Sky-Force' ride. Whizzing high above the Park, this adrenaline-packed ride is guaranteed fun for thrill-seekers. The giant 'white knuckle' experience takes up to 40 people, 25 metres above the ground exerting a force of up to 3G whilst simultaneously spinning 360 degrees.
"Venture into the Jurassic Journey attraction and spot life-sized dinosaurs before uncovering fossils in the Dino-Dig and seeing the new-born creatures in the Dino-Hatchery.
"Plus take a walk-through history in Flambards' award-winning undercover attractions. Journey back in time to discover Britain in the Blitz, The War Gallery and Aviation Experience and an entire Victorian Village – all under one roof. With its evocative atmosphere of bustling streets and alleyways, hidden nooks and crannies, the village is an incredible all-round sensory experience with authentic sights, smells and sounds – thanks to the real cobblestones!"
Museum of Witchcraft and Magic
Location: Boscastle
Great route to drive: Bude to Boscastle (15-16 miles and around 30 minutes)
Stunningly located by the Harbour in the centre of Boscastle, the Museum of Witchcraft and Magic is home to a collection of remarkable objects that reveal the secret history of magic.
The museum is now a hugely popular attraction in North Cornwall and if you are visiting Boscastle it is a must-visit attraction. You could explore the history of magic before or after a walk over the cliffs around the village.
Joyce Froome from the Museum of Witchcraft & Magic tells us what you can expect to see during a visit here.
"You will be drawn into our ancestors' vision of an enchanted world where objects like herbs, stones and shells were full of creative and healing power. You will come to understand how magic liberated and empowered ordinary people, and why the authorities came to fear the power of the witch. And you will discover that magic is still a living tradition today, which can help us rediscover our spiritual connection with nature.
"Our most popular exhibits include our First World War charms, made by soldiers in the trenches, which gave them courage and hope in the face of the horrors of war; Joan's Cottage, where a wise woman sits at her table surrounded by the magical tools of her trade; our unsettling but fascinating display of image magic; and the beautiful dark mirror that belonged to the museum's founder Cecil Williamson."
National Maritime Museum Cornwall
Location: Falmouth
Great route to drive: Truro to Falmouth via Penryn (12 miles and around 30-35 minutes)
View this post on Instagram
The National Maritime Museum Cornwall is the most visited Museum in Cornwall and the number one attraction in Falmouth. With 15 Galleries to explore, major exhibitions, a café with sea views and an award-winning educational program it's easy to see why.
The Museum's extraordinary building offers breathtaking views from the Lookout Tower as well as an underwater perspective from the Tidal Zone.
A spokesperson from the museum explains what some of the must-dos are:
In the summer head out on the water for a guided tour aboard one of the Museum's heritage boats
Take in the views of Falmouth and beyond from the top of the Lookout Tower
Spot sea life through the huge tidal windows in the Tidal Zone
Watch shipwrights at work in the workshop
Explore the current blockbuster exhibition
Discover more about the local maritime history of the county
Jump on the RNLI rescue vehicles in the RNLI Rescue Zone
Let imaginations run wild in the Treasure Island Playzone
Enjoy a cuppa in the café and look out over the harbour
Stand beneath the flying flotilla in the Main Hall
The museum also has several temporary exhibitions running throughout the year with the current Titanic Stories display examining the tales surrounding the sinking of this famous ship back in 1912. It looks at the myths, controversies and more.
Newquay Zoo
Location: Newquay
Great route to drive: Padstow to Newquay (16-17 miles and around 35 minutes)
🌴 HAPPY INTERNATIONAL SLOTH DAY 🌴
A day dedicated to celebrate these furry tree-dwellers and to raise awareness of threats that they face in the wild. ❤️ pic.twitter.com/kPRh3QtIuQ

— Newquay Zoo (@NewquayZoo) October 20, 2019
At Newquay Zoo you can meet loads of incredible species like snakes, meerkats, toucans and lots more. The zoo is even the only place in Cornwall that is home to lions!
You can enjoy up-close encounters with the zoo's resident animals and during a visit here you can learn about them from the different keepers. There are feeding sessions throughout the day and can even get the chance to help feed the penguins and the meerkats as well.
If you are visiting with your children you can ensure they will be entertained by the activity trails, face painting, children's play area and the Dragon maze.
The Café Lemur is a great place to head to for a bite to eat as it boasts a varied menu and its ingredients are locally sourced.
As you can see there are lots of attractions you can visit in Cornwall and lots of scenic routes you can travel to get to them. Here is just a recap of the best attractions to drive to in Cornwall.
Bodmin Jail
Cornish Seal Sanctuary
Flambards Theme Park
Museum of Witchcraft and Magic
National Maritime Museum Cornwall
Newquay Zoo
If you are planning a driving holiday in Cornwall or anywhere else in the UK, it is worth adding more drivers to your policy as this enables you to share the driving. Check out our different temp cover insurance for cars.