We know that learning to drive isn't easy – there are lots of things to practice and new skills to pick up, and of course everyone wants to pass first time if they can.
One thing that we've noticed is that more of our temporary learner driver insurance customers are getting cover for automatic cars, so we wanted to see if this was a growing trend across the UK and why people may be picking these over manual cars.
With this in mind, we've done some research into attitudes to learning in an automatic car, how many people are looking for information on automatic driving lessons and instructors, where the hotspots are, how many are booking automatic driving tests and what the pass rates are.
There are a lot more automatic drivers than there used to be
After looking through DVLA licence holder data, we found that while the number of people with a licence to drive any car in the UK is very similar now to back in March 2019 (up just 0.6% overall), the number of automatic-only licence holders is a lot higher. In fact, it's up by a massive 25% in just over two years.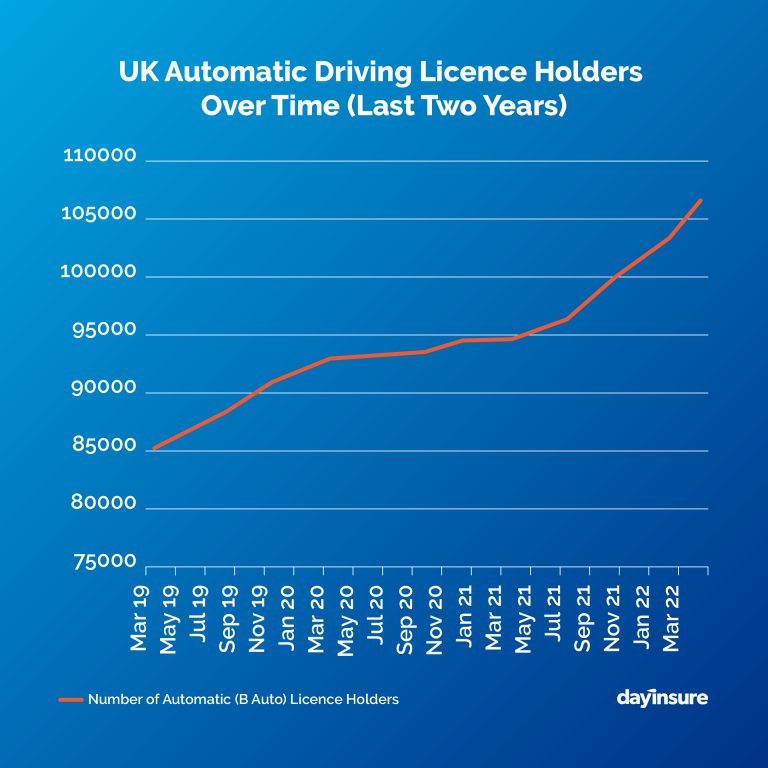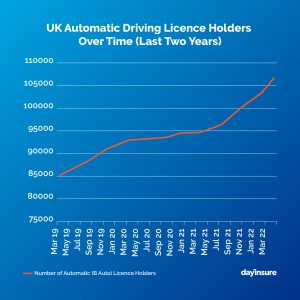 We also found that women are nearly three times as likely to learn to drive in an automatic than men.
Three in ten current learners have opted to go automatic
Our recent survey of 500 learner drivers also indicates that we're set to see these numbers rise further still as three in ten (39%) current learners plan to take their test in an automatic car.
Driving tests taken in manual cars are known as category 'B' and they essentially allow the licence holder to use any type of car. Tests taken in automatic cars are known as category 'B-auto' and this limits the holder to only driving these in the future – unless they retake their test.
Six in ten (60%) learners told us that they think it's easier to drive an automatic car, and most of those who've decided to go for lessons in an automatic (60%) said they think it'll help them to pass quicker.
A lot more people are searching online for information about automatic driving lessons and tests
While our survey indicated that demand for automatic tests is up, we wanted to see if this was also playing out in search behaviour – essentially, how many more people are asking Google for information about automatic driving lessons, instructors and tests and how has this changed year on year?
We discovered that online searches in the UK for info on 'automatic driving tests' are up 39% year-on-year, while searches for 'driving test' in general are only up 19% in the same timeframe.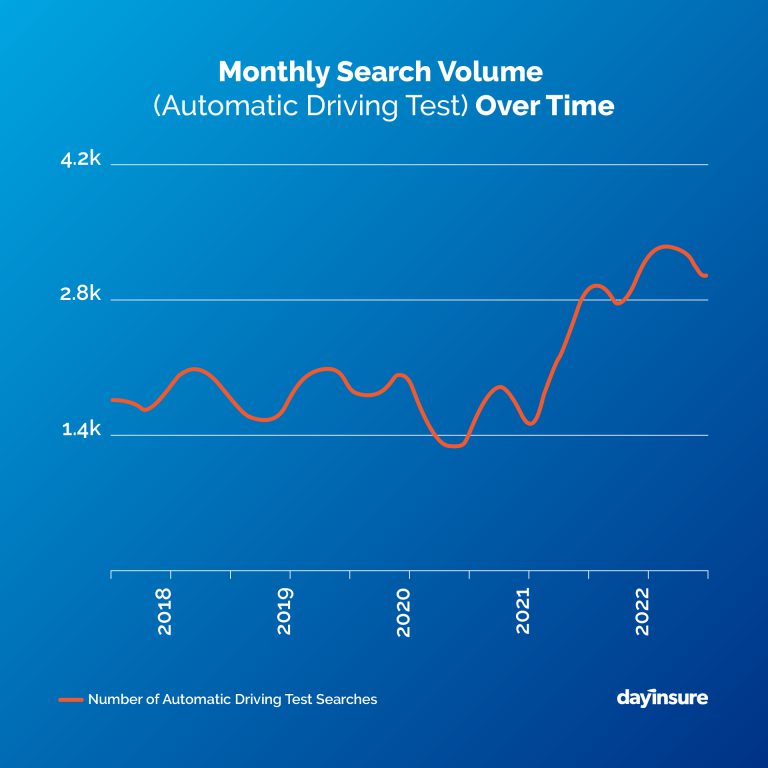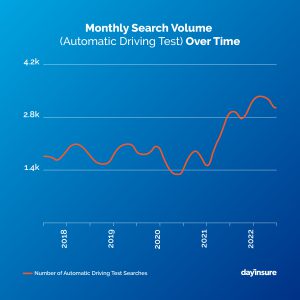 It's a similar situation with searches relating to 'driving licence' and 'driving instructor' – these have both risen in the last year, but more so for variations relating to automatic cars.
Searches for info on 'driving lessons' are actually down 14% year-on-year overall, but up 24% for 'automatic driving lessons' too.
On a much more local level, online searches for information relating to 'automatic driving tests' have risen the most (both year-on-year and in the last quarter) in Preston, Bolton, Bath and Reading – you could say that these are the current UK hotspots.
Finding an automatic driving instructor may not be easy
If you're looking for someone to teach you how to drive an automatic, then you may struggle depending on where you live.
We looked at Yell.com listings for driving teachers in over 50 UK towns and cities and found that on average only 8% teach in an automatic vehicle.
Learners are likely to find it easiest to secure the services of an automatic driving teacher in London (21% of all instructors listed), Nottingham (13%), Preston (12%), Birmingham (12%) and Luton (12%).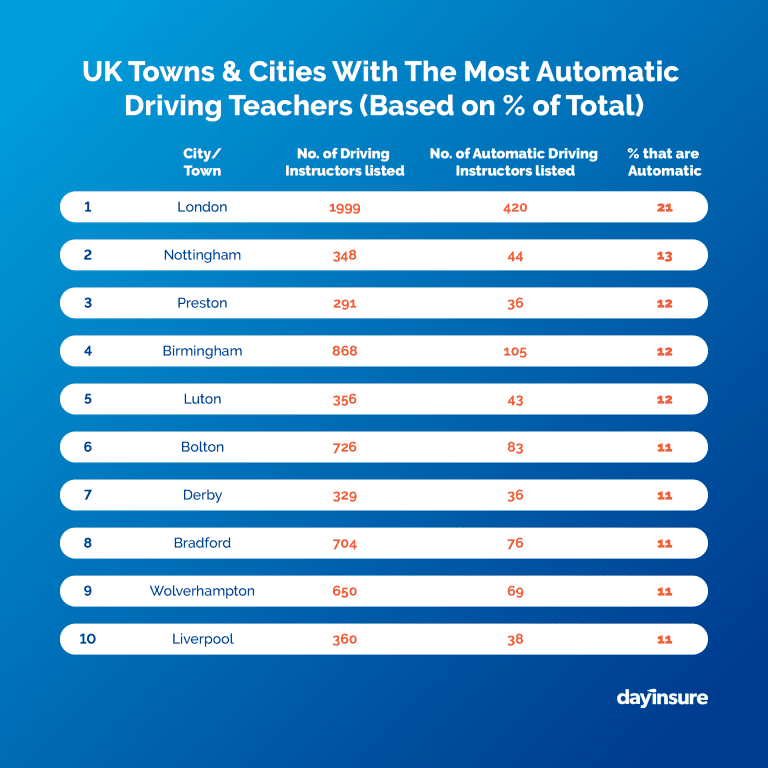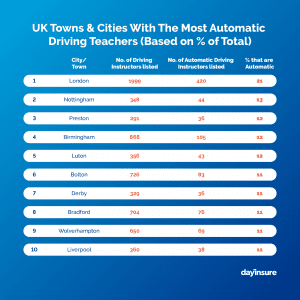 In contrast, learners are most likely to find it tricky to secure the services of an automatic driving teacher in Stirling (2%), York (3%), Cambridge (3%), Bath (3%) and Norwich (3%).
You may remember that Preston was one of the places where searches for information relating to 'automatic driving tests' have gone up a lot this year. With this Lancashire city also having a lot of automatic instructors, it looks like demand versus supply is good.
Bath on the other hand looks to have a lot of demand, but potentially not enough supply right now – this could be a good opportunity for driving teachers in the Somerset city though! It might be time for a few to switch to an automatic car.
Don't expect to pass quicker in an automatic
You may imagine that without the challenge of clutch control and gear changes, you'll pass your test quicker in an automatic, but actually our analysis of pass rate figures shows this isn't usually the case.
We found that the average pass rate since 2007 has been 39% for automatic learners, whereas it was 47% for learners in manual cars (even though the test itself is the same).
There are some test centres with very high automatic pass rates though – Pwllheli in Wales is the highest (at 80%), followed by Hexham in the North East (75%) and Arbroath in Scotland (73.7%).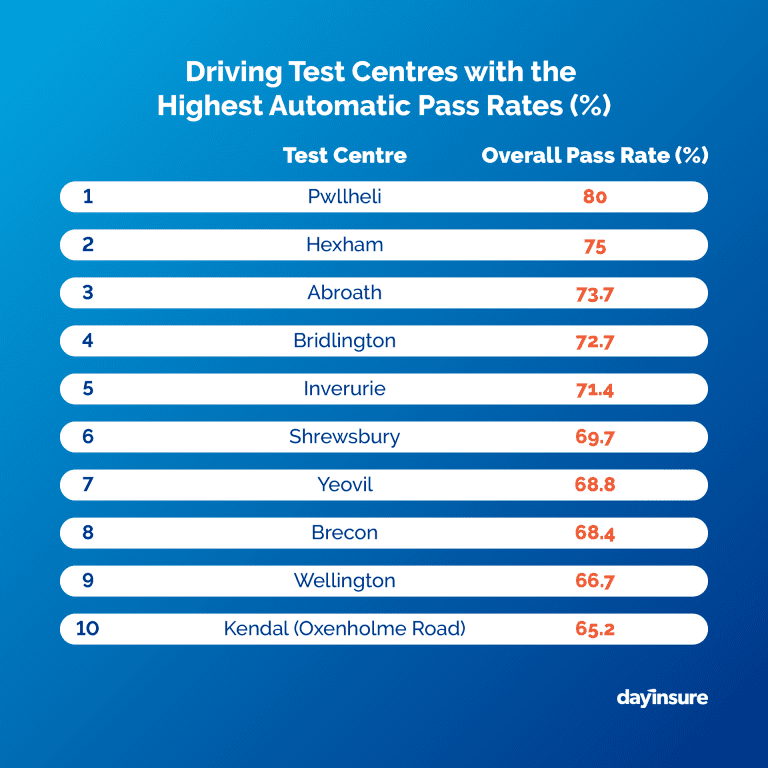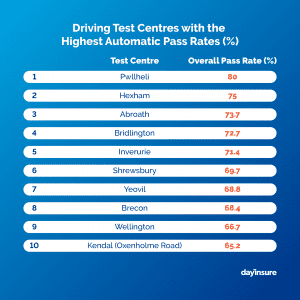 These are also typically the same areas where the pass rate for automatic is much higher than the manual pass rate, although Bridlington near Hull took the top spot. Here, the pass rate for automatic learner is 15.8% higher than for those in manual vehicles – the biggest difference of anywhere in the UK. It's similar in Shrewsbury (14.5%).
In contrast, automatic pass rates are lowest in Bury in Manchester (24%), Monmouth in Scotland (24%) and East Kilbride (25%) which is also in Scotland.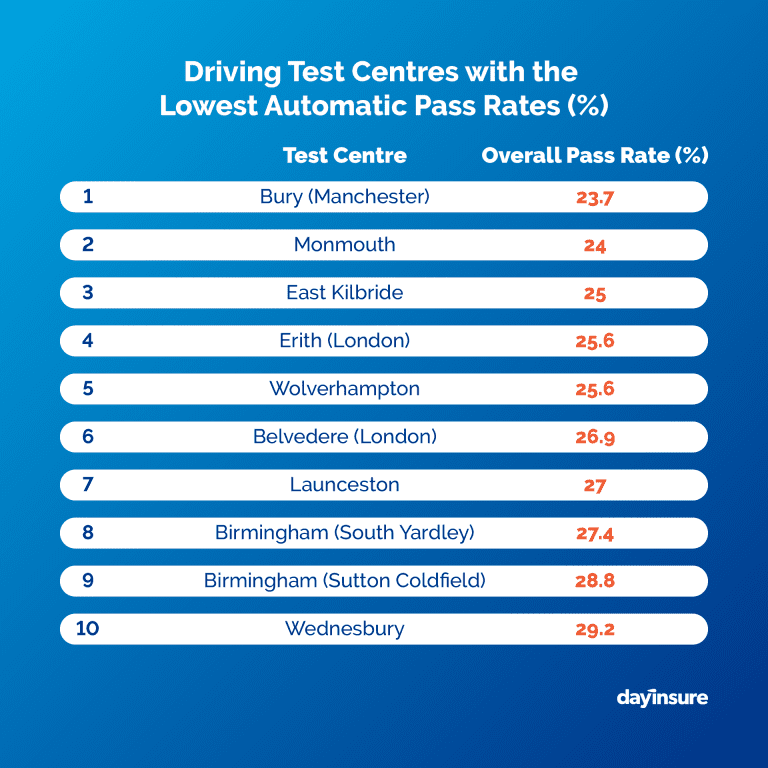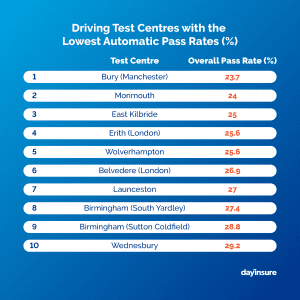 There is also the biggest difference between automatic and manual pass rates in Monmouth, where it's a massive 34% lower for automatic drivers!
Giving yourself the best chance of passing first time
So, we know that there are a lot more people learning to drive in automatics, and also that in general the pass rate is a bit lower, so what can you do to give yourself the best possible chance of getting your pink licence first time?
Well, we spoke to Emma Bagnall at Driving Test Success who said that  "it's important to note that whether learning to drive in an automatic or a manual vehicle, one of the things that we see on a daily basis here at Driving Test Success, is students taking their test before they're fully prepared.
We know how desperate students are to get their freedom, especially after waiting months for a test date, but unless students are fully prepared then they are much more likely to be leaving the test centre without their full driving licence."
Get peace of mind with learner driver insurance
If you're heading out onto the road to get in some practice behind the wheel, then you'll need insurance that covers you if you have an accident or unintentionally damage your car. Here at Dayinsure we offer flexible learner driver insurance from 1 day to five months – depending on what you need.
It's easy to get a quote. All you need to do is complete our four-step form.
Our study
We conducted the research for our study in June 2022. All the sources and methodology we used is listed below. Figures will of course change over time.
Sources
Methodology
·       We looked at UK Google search figures for various driving (lesson and test) related terms, to see how volumes compare between main/all cars and automatics specifically.
·       We also looked at this on a location specific level, to see how search demand varies across the UK.
·       Supporting this, we looked at latest and historic DVLA data on all 'B' (car) driving licence holders, and 'B Auto' specifically.
·       We also look at driving test pass data from the DVSA to see how pass rates compare between those learning to drive manual versus automatic. We looked at this on a national and location specific level.
·       Finally, we used Yell.com to look at the number of listed driving teachers, and then automatic driving teachers.
·       All of this data was cross analysed to reveal UK hotspots / areas where there is a shortage of automatic teachers versus demand and so on.