We can often get pre-occupied by focusing on the engine of a car or the look of the vehicle over the most important part of driving – the actual driver.
One of the easiest ways to improve your driving safety is to wear appropriate footwear. Driving in flip flops or high heels isn't very safe, but it isn't always clear what you should wear instead. There are, however, lots of 'driving shoes' you can buy.
Haven't heard of driving shoes before? This type of shoe has thin soles so you can feel the pedals on your feet and are the most appropriate type of footwear you can wear whilst driving.
Here we offer up tips you should follow when buying new driving shoes, what footwear you should avoid and the different type of driving shoes available.
Tips for buying new driving shoes
If you are looking to buy new driving shoes there are a number of things to consider and here, we share some tips you should follow.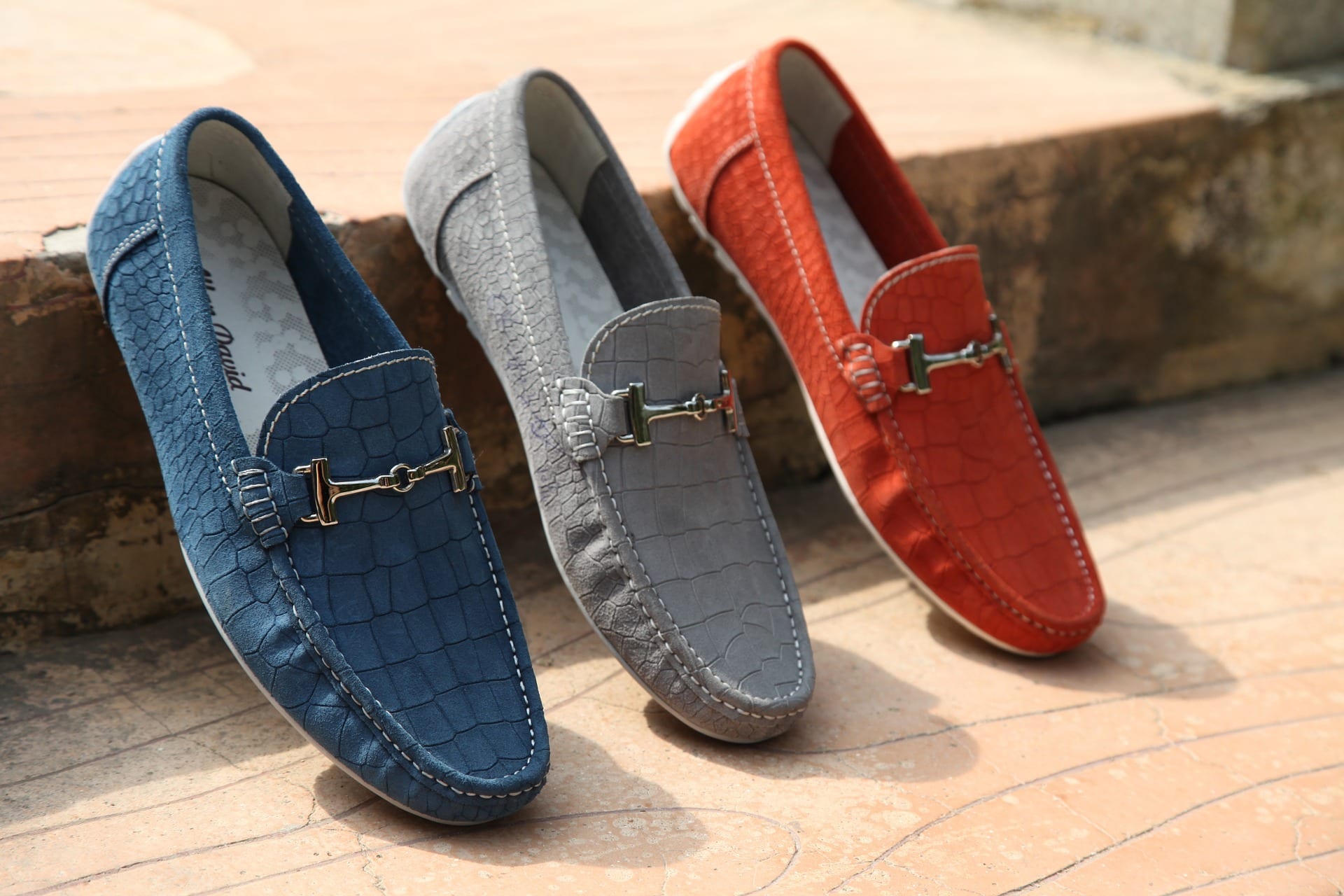 Choose shoes that are close-fitting
It doesn't matter whether you are a learner with temporary car insurance or have been driving for years, it is essential that you are wearing shoes that fit appropriately.
This is why fit should be a priority when you are buying new driving shoes as there is nothing worse than your foot slipping out of your shoe.
Luxury footwear retailer Hugs & Co told us just how important it is for you to buy well-fitting shoes.
"Driving shoes will mould to your feet a little as you wear them so don't worry if they are a little snug the first time you try them on. It's important to look for a pair with a lining though as this will help them last longer over time. All Hugs & Co. drivers have a fully stitched leather lining for comfort and to help them retain the perfect shape."
My Car Heaven, a website dedicated to reviewing cars, explains how ill-fitting shoes can be a safety concern:
"Driving shoes need to be small and tight to the foot, so not to mistakenly hit two pedals at once or slip off (no high heels or large sole trainers for example)."
Top tip: Measure your feet before buying new driving shoes.
Pick shoes that are comfortable
This might sound obvious, but different types of shoes can be more comfortable for different types of feet.
When looking for comfortable driving shoes you need to look at the insole as this should have a supported heel and arch to help with your balance. Another thing to consider is the flexibility of the material as this will affect the comfort of it.
It shouldn't matter whether you are sitting down, changing gears or braking, the comfort level of your new shoes should remain the same.
Craig Landale, the director and editor-in-chief at Menswear Style, says driving shoes boast certain features that make them comfortable:
"The driving shoe is similar to that of your regular suede loafer however more relaxed and features a flat heal which is particularly designed for comfort when driving.
"They'll feel like you're wearing slippers and that makes feeling the peddles of the car more sensitive, which of course, is a good thing. Chunky clunky trainers are the last thing you want to be wearing whilst driving."
Top tip: Look to see if the retailer offers returns.
Make sure they are grippy and lightweight
When you are driving you want shoes that have traction, so they grip to the pedal and they don't slip off. Some shoes are better for gripping onto the pedal than other designs and it is important to do your research on this.
Stephanie Brooklyn, the managing director of racing shoemaker Piloti, tells us how driving shoes are specially designed: "Generally, traditional shoes are designed in the context of walking or running, so designers typically think about how they perform only on a flat surface. Our design team at Piloti however also considers how our shoes will perform on an angle, and with this comes added design elements that improve the driving experience.
"For example, Piloti driving shoes have patented heel technology (called Roll Control 2.0™) that allows for consistent curvature from the bottom of the heel to the top. This technology gives you amazing control by allowing you to have smooth pedal transitions with minimal drag and also disperses the downward force and pressure in your heel to give you support and long-lasting comfort. Though our shoes are just as comfortable to walk in as a regular shoe, they make all the difference in the pedal box."
Driving shoes should also be lightweight as there's nothing worse than your loafers feeling like bricks on your feet. You should check that the shoes are made from lightweight materials as they are perfect for driving in.
Top tip: Many shoe retailers will put the weight of the shoes in their product description so make sure you do your research.
Shoes to avoid wearing when driving
As we've touched on there are lots of things that can affect your ability to drive and here, we look at footwear you should avoid when driving your car.
Flip flops
Flip flops might be comfortable to wear, but don't offer the flexibility your feet need to drive safely as they offer a flat base which your toes need to be held onto.
Without a good grip, your flip flops can easily fall off and get tangled with your pedals. They are not very grippy and can slip off pedals, making them a bad choice all round.
High heels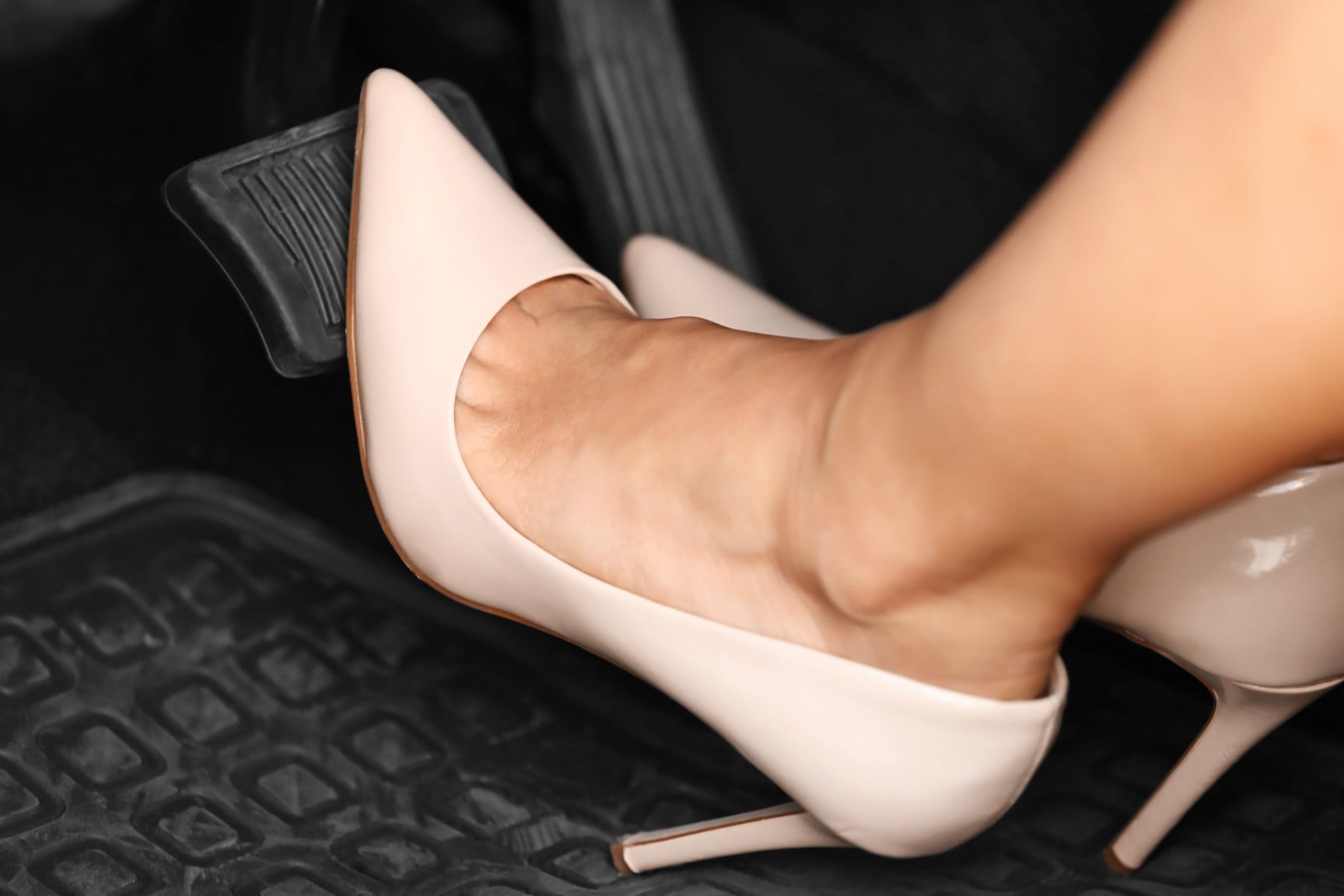 Although they are a popular fashion accessory, wearing them whilst driving should be avoided at all costs. They prevent you from pressing down on the pedals properly and get caught on the carpet beneath your feet as you change their position.
Platform boots
These are also a big no-no as the driver has less of an idea as to how much pressure is being applied to the pedals. Placing more pressure on the accelerator, for example, can lead to accidents.
These types of shoe also make it difficult for you to move your feet around when driving, especially in a confined space where the pedals are.
Best driving shoes you can buy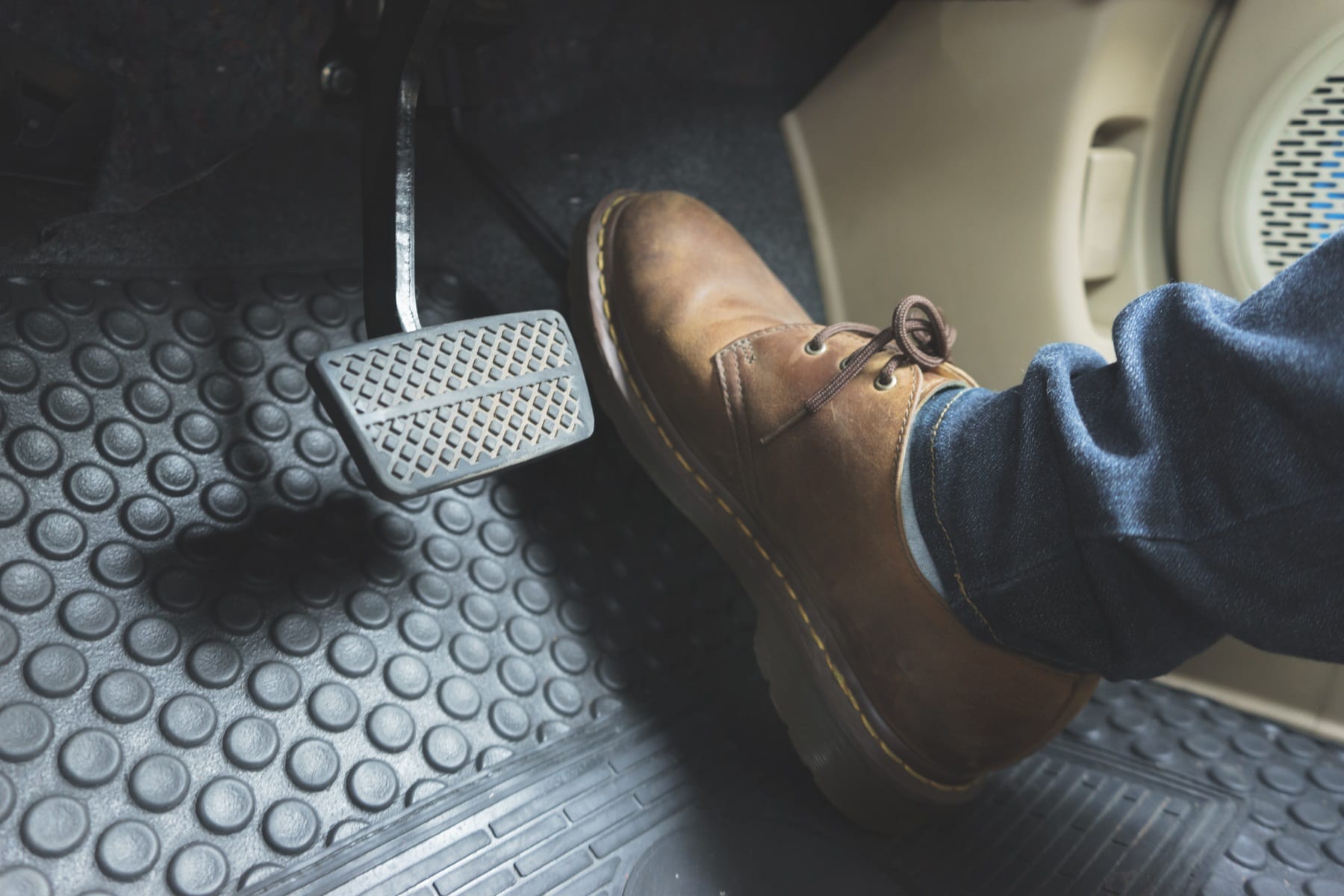 There are so many driving shoes you can buy and here are some of the best ones you should look out for:
TS1s from Hugs & Co – These feature upcycled tyre as the sole and are sustainable as well as more durable than regular drivers. They've still retained the same level of comfort and chic low-profile silhouette as classic drivers whilst using low energy manufacture techniques.
Piloti driving shoes – The racing shoe retailer is known for producing shoes that prioritise performance, quality and design. Stephanie Brooklyn, adds, "Piloti driving shoes offer innovative technology that's been adapted from our race boots and performance driving shoes. This includes design elements like a rounded heel with 360° wrap for maximum pedal control, soft forefoots for improved pedal feel, stability shanks for torsional support and cushioning in all the right places."
Dune Barnacle leather driving loafers – These specialist driving shoes are affordable and boast laces for a snugger fit.
Ugg Henrick Stripe – Although known for soft fluffy boots, these tan leather driving shoes have a grippy sole and are well-known for their comfort.
Puma Drift Cat 7 – These driving shoes have been modelled on the footwear seen up and down the Formula One grid. Its rounded heel has been designed to help support your ankle during long stints behind the wheel.
For more informative articles like this, take a look at our news section here.