Dashcams are now a hugely popular accessory for vehicles across the UK and the best models will capture top-quality video footage. This can help prove what happened after an accident, can protect you from false claims and in some cases reduce your insurance premiums.
If you're learning in a car it is a good idea to not only organise temporary learner insurance but to consider buying a dashcam to protect yourself even further, after all even the best UK drivers can make mistakes.
Not all dashcams that you can buy are worth the money and there are big differences in quality between certain models. It's therefore important that you do your research, especially if you aren't 100% sure what to look for. In this piece, we will discuss what people should look for when shopping for a dashcam and the recommended models to buy.
What should people look for when buying a dashcam?
Image quality
The last thing you want is to discover the new dashcam you have bought does not record a clear image and is blurry.
It is advised that you buy a dashcam that records more than 1080p and aim for a model that records in 2560 x 1080 so you get a better, wider view of what's happening around your car.
Image quality is something Paul Hadley, the editor of motoring publication Motor Verso, says is vital: "There is lots to consider. Always make sure you are buying a camera that can capture a clear image, more than anything else."
If you are involved in an accident, good image quality and audio can help you prove your case in insurance and accident claims and you could even record drives and share the footage to make road trip movies!
Before buying a dashcam model you should check recorded video before you buy to make sure the videos aren't grainy.
GPS location, speed and parking modes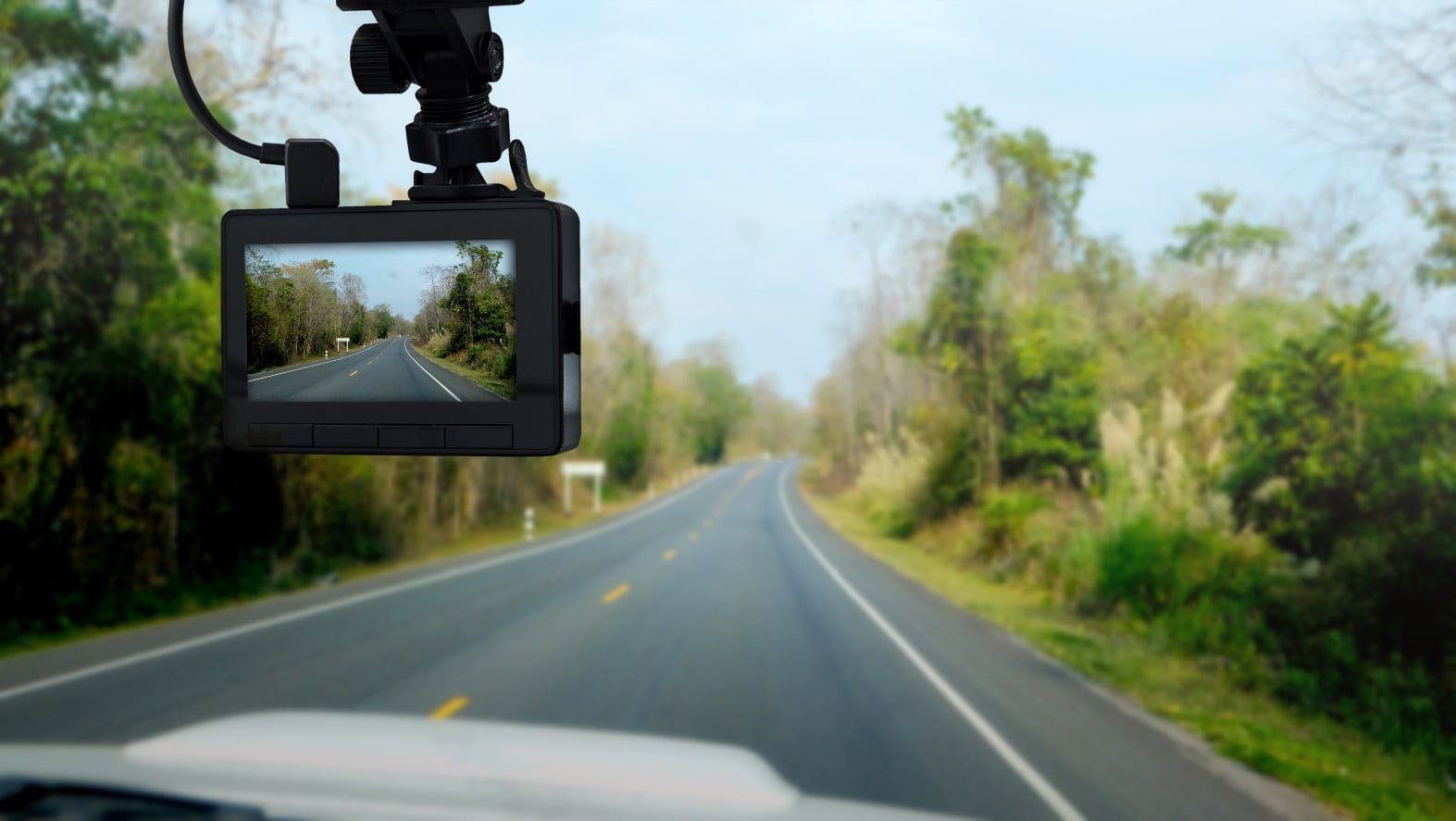 Dashcams with GPS location allow you to pinpoint your exact location at the time of an accident and will be able to show you the exact route you travelled and your average speed.
All of this information can help you build your case if you have had an accident and are therefore essential features you should look for when shopping for a dashcam.
Many models also come with a parking mode feature where the camera on your dashboard will start automatically recording if it detects a collision of impact while your vehicle is parked.
Storage
You need a dashcam with lots of storage as it will be constantly recording and will record over the oldest recordings to maintain their loop.
If your new dashcam is recording in HD, it will use lots of data and space and many manufacturers recommend you buy models that can hold class 6 memory cards or higher.
HD dashcams generally record for up to three hours on 8GB cards, four to six hours on 16GB and 6-12 hours on 32GB.
Paul Hadley adds: "Also don't forget you are going to need a storage card for your footage, buying cheap might catch you out here as you don't want the card to corrupt."
It is worth checking to see if your model comes equipped with an SD card as some do.
Apps
Some models of dashcams come with apps and these could allow you to save footage to your mobile phone. If your model doesn't have an app you can still save it to your computer.
By transferring the footage, you will be able to protect any valuable recordings from being overwritten. If you are involved in a collision it is worth transferring your recording to your laptop or phone, so you have a copy of it.
There are other bespoke apps for some dashcam models that allow you to connect to wi-fi and your smartphone, tablet or computer so you can transfer a recording instantly.
Mounting options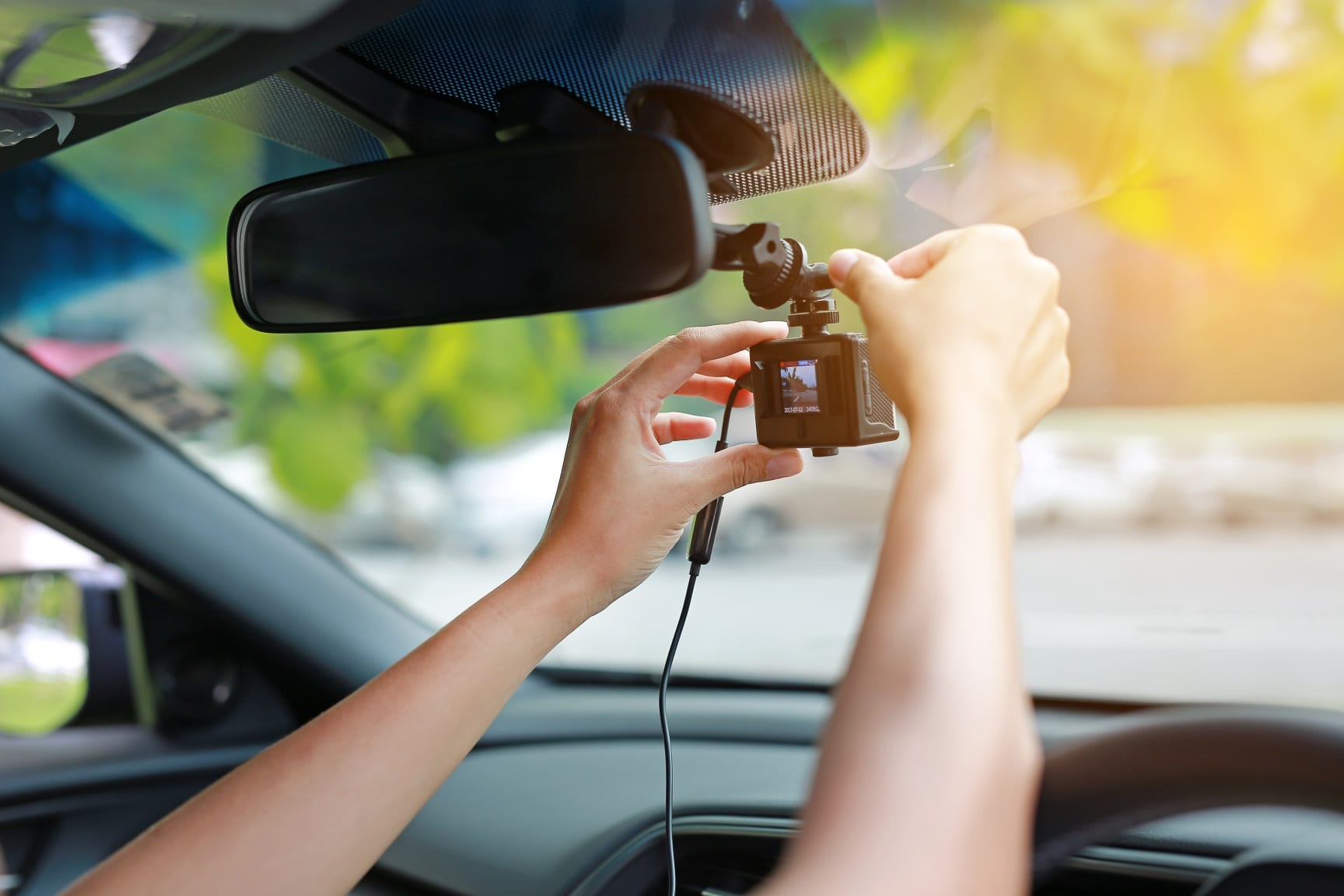 Dashcams do come in all shapes and sizes and there are a variety of mounting options.
You can mount your camera on the windshield, rear-view mirror or the dashboard. Dashcams are generally mounted using suction cups or semi-permanent adhesive mount.
You should check which mounting option best suits your needs and buy a model that is easy to install. Models that use suction cups allow you to remove and reposition wherever you wish to position it.
Adhesive mounts are more discreet than suction cups but you will not be able to remove or reposition these.
Dashcam models to buy
Garmin Dashcam 55
Price: £149.99
View this post on Instagram
The Garmin Dashcam 55 is a small model that can be mounted onto your windscreen, boasts a 3.7-megapixel camera and a 1440p video capture.
This model is well-known for working well in low-light and it boasts features such as forward collision and lane departure warnings, red light camera and speed camera warnings, lifetime safety camera updates and has GPS and G-Sensor features.
Paul Hadley from Motor Verso recommends the model: "I have tested a lot of dashcams over the years. The one I use personally is the Garmin Dashcam 55. I just love the quality that this camera records and also the small footprint that the camera has when mounted on the windscreen."
Apeman Dash Camera C450A
Price: £29-£49
This model boasts 1080P Full HD recording that will enable drivers across the UK to capture every bit of footage from their road trip.
Something that does separate the Apeman Dash Camera C450A from others is the fact you can capture every detail of your drive at night. The high sensitivity sensors make the most of natural light for plate number identification and human faces.
A popular feature for many users of this model is the wide-angle that allows drivers to record full three-lane traffic. This is the benefit of the C450A having a three-inch screen that is big enough for you to playback recordings and change its settings.
Parking monitoring, loop recording, and motion detection are other settings that make this model one of the best on the market.
Thinkware TW-F770
Price: £189-£239
NEW Thinkware Digital Recorder Dash Camera (TW-F770) https://t.co/i1VgFNuvVy pic.twitter.com/BkWT6yBMOt

— Smart Parts (@SmartHomeParts) June 6, 2017
The Thinkware dashcam F770 camera is a popular model to buy as it boasts a 'Super Night Vision' feature that allows you to record when it gets dark.
There is a time lapse feature that extends the parked recording hours of the camera and the discreet style of this model is something else that many users love.
The front-facing camera has 1080P Full HD recording capability and you can also buy a 1080P Full HD rear-facing camera to add to your vehicle.
The camera has video enhancement technology in-built to ensure the video recordings are clear under any circumstance and the 140-degree wide angle allows drivers to record several lanes of traffic.
Mio MiVue™ 798 Dual
Price: $224.57 (around £180)
After rigorous comparative testing and analysis, our flagship Mio MiVue 798 dash cam scored an impressive 72% by consumer champion @WhichUK 😁

Scorings of 70% and upwards are only reserved for top-performing products. Shop now here: https://t.co/TtXjmpFODh pic.twitter.com/wkTfjUPDJZ

— Mio UK (@Mio__UK) September 12, 2019
The MiVue™ 798 Dual dashcam from Mio is a very popular model as it boasts lots of great features.
One of these features is the picture quality as the model, which has been designed with Sony's high-quality STARVIS CMOS, meaning it produces clear footage even in low light.
The camera has built-in Wi-Fi so you can instantly back up your videos to your smartphone or share them via the MiVue Pro app.
The Mio MiVue™ 798 Dual has GPS tracking integrated into it so you can easily track and record your journey. Every recording will log your location and speed and unlike some other models the GPS feature is housed entirely inside the camera meaning there are no extra boxes locked onto the camera.
The dashcam has a smart alert function that will warn you about your driving speed and the distance between your car and others on the road.
Nextbase 312GW Deluxe dashcam
Price: £99.99
This small and compact model comes with many features that drivers will find useful.
The features of the Nextbase 312GW Deluxe dashcam includes a G-force sensor that protects your footage after an accident. Other useful features include GPS tracking that records your location and speed and the useful parking mode, which will start recording if your car is bumped.
The dashcam also has a 6G lens, built-in Wi-Fi and a 140-degree wide-angle view so that it can record multiple lanes of traffic on your journey.
To recap, here are some of the best dashcam models on the market:
Garmin Dashcam 55
Apeman Dash Camera C450A
The Eyes Nexar Dashcam
Mio MiVue™ 798 Dual
Nextbase 312GW Deluxe dashcam
Dashcams are becoming more popular than ever and if you are learning to drive it is a worthwhile accessory to invest in as well as buying learner driver insurance.