Once you've passed your theory test and are in the process of booking your practical driving test, you may wonder what elements you should consider when picking a time slot.
There are many factors which influence a learner driver's chances of passing their practical test first time; most notably their ability behind the wheel. Plenty of myths also exist surrounding what will help or hinder you from passing your test, such as that driving examiners have a fail quota to meet, fewer people pass on Fridays and more.
One element we believe may affect the pass rates for learner drivers in the UK could be the time of day the test is taken. At Dayinsure we conducted some research into this and discovered the best time to take a driving test.
Driving Test Times
Using a freedom of information request, we looked at all the available practical driving test slots in the UK and compared them with the average pass rates for each time slot to decipher the best time for a driving test.
Interestingly, the research found that between 7pm and 9pm provided the highest average pass rate of 65.4%, while the worst option was between 11am and 1pm, with an average pass rate of less than half at 48.8%. Between 3pm and 5pm and 5pm and 7pm were also fairly low with average pass rates of 49.8% and 49.3% respectively.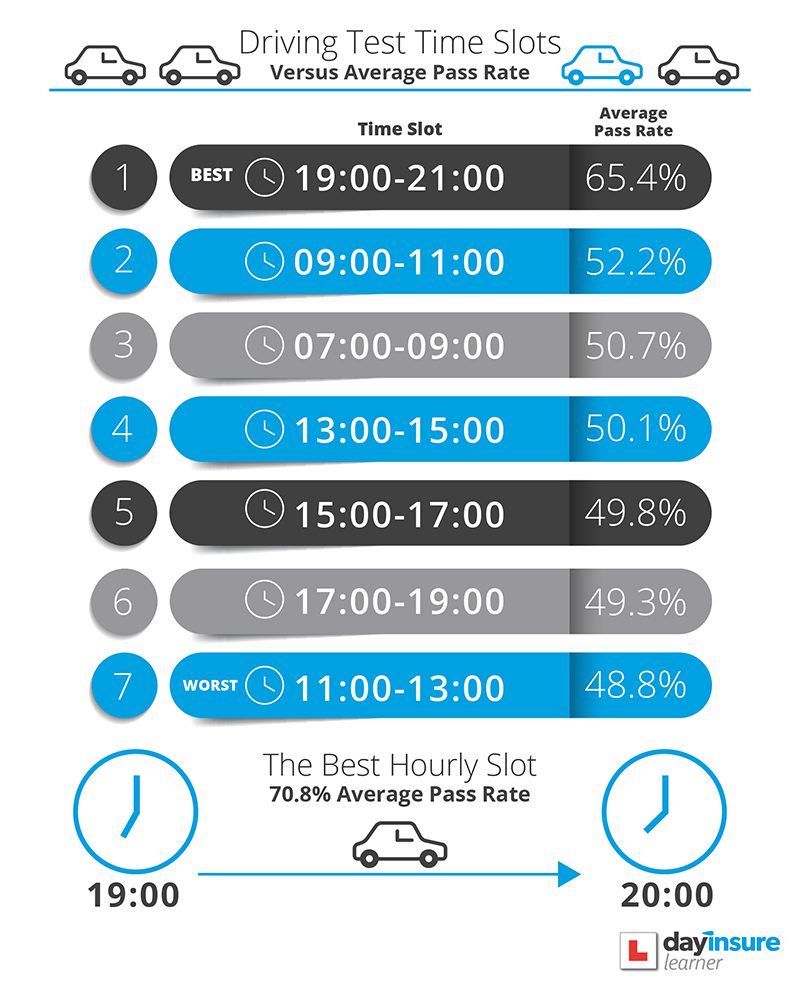 On an hourly basis, the average pass rate increased even further to 70.8% for new drivers taking their test between 7pm and 8pm. While for those who prefer an early drive, the average pass rates were 60.8% and 60% for time slots between 10am and 11am and 8am and 9am respectively.
Top 5 Hourly Slots:
| Time Slot | Pass % |
| --- | --- |
| 19:00-19:59 | 70.8% |
| 10:00-10:59 | 60.8% |
| 08:00-08:59 | 60% |
| 20:00-20:59 | 60% |
| 15:00-15:59 | 56.6% |
Reasons for pass rate differences
There could be various reasons why certain slots are the best time to book a driving test. A spokesperson for Dayinsure commented: "Evening pass rates may be higher, especially after 7pm, due to the quieter roads after rush hour traffic. Likewise, late morning and lunch times see more cars on the road, potentially causing more problems for new and nervous drivers."
Other factors including more cars having their headlights on in the evenings could increase pass rates by providing extra indications of other road users for learner drivers. The earlier slots may have higher pass rates as learner drivers are more awake and ready, but also may be hindered by getting caught up with the school run.
Of course, every area of the UK is different, but with these times and your driving instructor's knowledge of the area around your test centre and potential test routes, you should be able to pinpoint the best driving test times to increase your chance of passing.
These driving test times are worth bearing in mind for any learner driver preparing for their test, whether it's your first, second, third or more time to improve your chances of success.